December 7th, 2009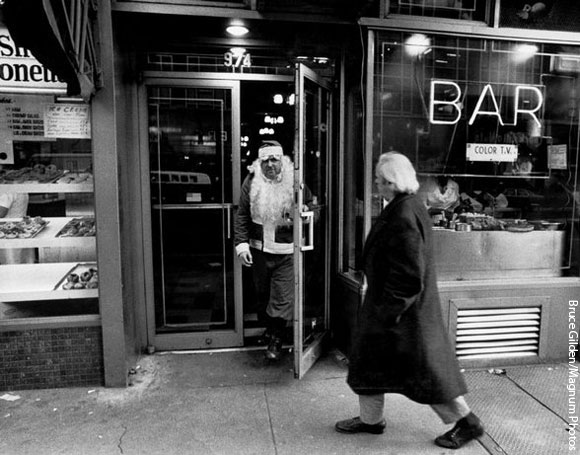 Here we come a wassailing
Among the leaves so green,
Here we come a wandering
So fair to be seen.
— Traditional Christmas carol
* * *
We serve hard drinks in here for men who want to get drunk fast, and we don't need any characters hanging around to give the joint "atmosphere."
— Nick the bartender, It's a Wonderful Life
» Clarence the Angel, the character who prompted that famous remark from Nick the bartender by ordering mulled wine, would be pleased with the offerings this Thursday, December 10 at the Franklin Southie (152 Dorchester Ave., South Boston). Drinkboston joins with Kate Palmer (aka Saucy Sureau) of St. Germain Elderflower Liqueur and Franklin bev manager/bartender Joy Richard for St. Germain Industry Night. Like the inaugural industry night that featured Fernet cocktails last month, this informal gathering is an enticement for bar and restaurant workers but welcomes non-industry folk alike with signature cocktails, swag and whatever shenanigans ensue. The menu of $6 St. Germain cocktails launches at 8:00, the $1 Island Creek oysters at 9:00. The festivities last 'til closing time at 2:00. Don your reindeer sweater and come on by!
» Patrick Maguire, a regular commenter on drinkboston and a frequenter of Boston restaurants, is on a mission to drum up respect for people in the service industry. He recently launched his own blog, Server Not Servant, and was interviewed in Sunday's Globe about his mission and its related book project. If you happen to run into him while you're out on the town, be sure to shake his hand and say hello. Especially if you're in the service industry — he's got a questionnaire for you.
» Given that I touched on the topic recently, I was really excited to see an article on Massachusetts' liquor licensing racket in the latest Boston Magazine. That's because there isn't a lot of thoughtful explanation out there on the matter, which looms large over Boston's drinking culture. "The Drinks Are on Them," by Jason Schwarz, is about how the law firm of McDermott, Quilty & Miller dominates the city's liquor licensing. With their success in winning over state and city politicians, the liquor licensing board and persnickety neighborhood associations, "these lawyers are the arbiters of where, and how, we eat in this town," argues Schwarz. It's an interesting read, but, in typical Boston Mag fashion, it doesn't delve nearly deep enough into an issue that deserves a good investigative report. For instance, the article offers up this tidbit: "That's why a lot of [restaurateurs] boycott the city," says Charlie Perkins, who brokers restaurant (and liquor license) sales as the head of the Boston Restaurant Group. "You have to pay $200,000 just to serve a drink. A lot of people go to the suburbs."
Hey, how about an anecdote or two about those restaurateurs who forsook Boston for the 'burbs? There's nothing like a sharp-clawed exposé of Boston liquor law to put me in the holiday spirit!
Tags: Franklin Southie, St. Germain
Posted in Cocktails, Events, Liqueur, Nips | 4 Comments »