July 20th, 2009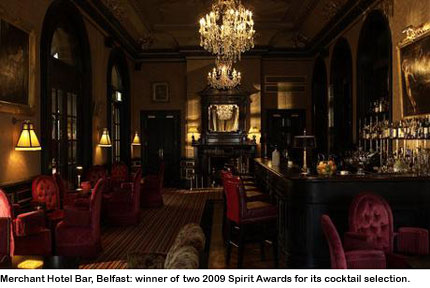 That World's Biggest Bar Crawl seminar I talked about in my previous post about Tales '09? It just dawned on me: why not offer up the whole list? I know there are more than a few globetrotters among you drinkbostonians, and, hey, if you find yourself in Barcelona or Hong Kong looking for a serious, historic, plush, legendary or otherwise kick-ass bar, just keep this list in your phone or tattoo it on your thigh or something. Here they are, in order of mention, and with a few sparse notes I took:
Carousel Bar (New Orleans); Florida Room (Miami); La Floridita (Cuba); Merchant Hotel bar (Belfast); Quaich Bar — 1,000 single malts (Speyside, Scotland ); Bramble — built for just £16,000 (Edinburgh ); Bar 50 — home to the world-famous Peter Sellers lookalike and Breakfast Martini inventor Salvatore Calabrese, Dukes Hotel, Quo Vadis, Milk & Honey, the LAB (London); Blackfriars Distillery Bar — shameless plug from brand ambassador Simon Ford (Plymouth, England); Apoteke (Tromso, Norway); Ruby (Copenhagen); Hemingway Bar, Harry's New York Bar (Paris); Widder Bar (Zurich); Barfly's Club — 60 different ryes! (Vienna); Dry Martini — over 1 million served, Boadas  — here they "throw" drinks between giant shakers like in Jerry Thomas' day (Barcelona); Paparazzi, UFO (Bratislava, Slovakia); Le Lion de Paris (Hamburg); Schumann's (Munich); Becketskoff (Berlin); Nottingham Forest — molecular mixology pioneer (Milan); Door 74 (Amsterdam); Burj al Arab — world's priciest cocktail (Dubai); Sky Bar (Moscow); Felix, Captain's Bar, China Club (Hong Kong); Olives (Mumbai); Rick's (Delhi); Raffles — originator of Singapore Sling but a depressing tourist trap, Tippling Club (Singapore); Constellation (Shanghai); High Five — jaw-dropping technique, Tender Bar — six different shaking techniques, carved ice cubes (Tokyo); Bayswater Brasserie (Sydney); Der Raum, Tiki Bar, 1806 (Melbourne); Motel, Matterhorn (Wellington, NZ); Cafe Tortoni (Buenos Aires); Andres Carne de Res — filled with junk (Bogota, Colombia); Westin Hotel bar — home of the Caesar (Calgary); Zig Zag, Vessel (Seattle); Bel Ami (Portland); Bix, Tommy's, Bourbon & Branch (San Francisco); Doheny, the Edison (L.A.); Downtown Hotel (Dawson City, Yukon Territory); Churchill Downs (Kentucky); Pegu Club, King Cole bar in the St. Regis Hotel, P.J. Clarke's, PDT, Death & Co., Randall (NYC); Drink (Boston); the Gibson, Bourbon (Washington D.C.); Absinthe House, Alibi (New Orleans). Extra credit: Vodka & Shotguns (Lithuania).
I have only been to a handful of these places. Got some travelin' to do.
I guess it would have been a lot easier to link to the New York Times' version of this list, complete with links. D'oh.
Tags: notable world bars
Posted in Misc. | 1 Comment »