August 4th, 2006
Max Toste – Deep Ellum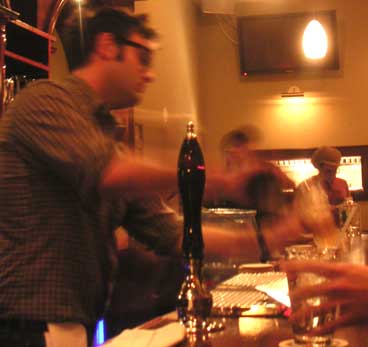 Bartender profile
With his custom-made Ray-Ban eyeglasses, artfully mussed hair, and vintage, "daddy-o" shirts, Max Toste ("toasty") looks like a guy you'd as soon see on stage at T.T. the Bears as behind the bar. Like a fair number of bartenders in Boston, Max actually is a musician. But I'm glad he's dedicated to his day job as co-owner of Deep Ellum, the only combination beer bar-cocktail lounge in Boston. Back when he tended bar at Bukowski Tavern-Cambridge, and now at Deep Ellum, Max treats me like the Lady of Beer Manor. He will proffer a beverage or two he thinks will interest me; he knows my taste is all over the map, so he might offer me a Moylan's Hopsickle (ridiculously hoppy double IPA), a mellow stout, or a German lager that happens to come in a can. He knows I rarely come in with my beer order on the tip of my tongue, that I always peruse the specials blackboard, and that I like a little banter — call it beer foreplay — before I commit myself to a selection. I'm no bartender's pet, though. Max waits on all the ladies — and the gents — with similar attention to their tastes and personalities.
Believe it or not, this is only his second gig behind a bar. "Before Bukowski, I was not very interested in bartending. I worked in fancy places [e.g. Locke-Ober] where being table-side guiding people through wine lists was much more interesting than cranking out apple-tinis and Cosmos. I was terrified of being trapped behind a bar, stuck talking to some golf enthusiast." But, he has found that his "customers, for the most part, are very receptive to trying new things and maybe hearing a story about what they're drinking."
And since he's been at Deep Ellum, Max has developed an ambitious repertoire of classic cocktails, including four different Manhattans.
Hometown
Tiverton, Rhode Island, a very small rural coastal New England town. Lots of farmers and fishermen. My grandparents on both sides were farmers from Portuguese heritage. The love of food and drink is a big part of my family's personality.
First drink you ever had
A glass of Seagrams VO whiskey my grandfather had stashed in the door of his MG. My second was stealing a Bud can from same grandfather's garage fridge. He knew how to live! And I can thank him for my love of whiskey and beer.
Favorite bar in Boston other than your own
The DeLux. The other is the bar in my house.
The drink you most like to serve
I like to try to figure out just the right beer or drink for every customer at my bar. What I like doesn't really matter. It's their mood or taste at that moment that I try to cater to. I like turning people on to their new favorite thing.
The drink you least like to serve
Something people order because they think it makes them cool.
What you drink at the end of your shift
At the end of the night I like a whiskey and a cold beer.
If I weren't a bartender I'd be…
A cook.
A bartender's best friend is…
The customer who wants to have a good time. A bartender's worst enemy is the other guy who doesn't!
People drink too much…
Fucking diet soda. Have a beer with your lunch like a civilized person!
People don't drink enough…
Local craft beer.
Drink for a hot summer day
Pacifico Clara or Smuttynose IPA out of the bottle.
Drink to ward off the cold
Unibroue Trois Pistoles [Quebecois strong ale], Sam Smith Imperial Stout, or three fingers of an Islay scotch.
The best thing about beer in Boston is…
The presence of more craft (and local craft) beers in your average bar and liquor stores every year.
The worst thing about beer in Boston is…
That drinking good beer is a status symbol, and not just natural!
Permalink | Filed under Bartenders |