December 9th, 2008
Drink – Best Boston bars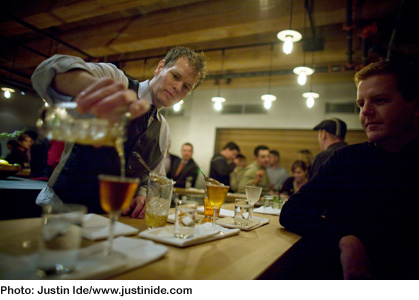 Established: 2008
Specialty: Cocktails
Prices: Moderate to high
Atmosphere: World-class drinks and service with an approachable style in a minimalist but warm subterranean space.
See Best Boston bars for address and contact info.
Imagine you're John Gertsen. You work for several years behind what is probably the tiniest bar in Boston, at least in terms of workspace — the bar at No. 9 Park. And yet you manage to make a name for yourself by mixing some of the nation's best cocktails. One day, your boss, chef Barbara Lynch, says, 'John, I'm opening a new bar, and I want you to run it. You can help design it, too. Here's a blank check.'
So, you take the exposed-brick-and-granite basement of a building in industrial Fort Point — the type of space a hot, new design firm might occupy — and arrange slabs of smooth oak into three distinct but connected U-shaped bars. You go minimalist by storing all liquor bottles out of sight so that, aside from careful lighting, the bar's only decor consists of vintage glassware and punch-bowl sets lining the back bar, vases of fresh herbs (to be muddled into cocktails), and antique bar tools — including large iron tongs for gripping 50-lb blocks of ice and various picks and mallets for breaking those blocks apart to use in drinks. Finally, you hire some of the most talented bartenders in the country, whose mixological creativity renders printing a cocktail menu unnecessary.
Lynch and Gertsen's bar, Drink, opened in early October to great fanfare. It is re-inventing the concept of a bar in this city. If visitations from such personages as Dave Kaplan and Phil Ward of Death & Co., Simon Ford of Plymouth Gin and Dale DeGroff are any indication, not to mention two (1, 2) citations already in the New York Times, Drink has assumed the position of world-class representative of the Renaissance of Cocktails and Bartending.
If this all sounds a bit much … it's not. Drink works. It's a cool-looking bar where you can get a great cocktail and either sit back and watch the show or mingle around the room, which is strategically designed for socializing. Gertsen is at pains to demonstrate that Drink is as much a friendly neighborhood bar as a shrine for cocktail geeks. "We don't want to be snobs and dictate to people." If a customer orders something as basic as a vodka and soda, it will be made with care — with sturdy Kold Draft ice and a nice spiral of fresh lemon peel. The next time that customer orders, he might be gently persuaded to try, say, a Collins. After all, he's paying $10 for a simple highball. (All drinks at Drink are $10. There is also a cheekily limited beer and wine menu: one light beer, one dark beer; two kinds of red, two kinds of white).
Despite the "we cater to all tastes" philosophy, it is cocktail enthusiasts like me who are going to have the best time here. For me, Drink is about the adventure of simply naming my base spirit and seeing what the bartenders come up with, or ordering a bowl of flaming Chartreuse punch with a group of friends. I like that there is no dress code, but rather a strict bar code that emphasizes quality drinks over brands, and hospitality over attitude. I don't have to ask, as one tarted-up nightclubber did after receiving a vodka and soda poured from a bottle not clearly marked Grey Goose, "What's the point of this place?"
Permalink | Filed under Boston bars |