January 31st, 2009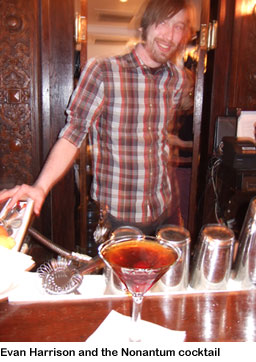 Something about the Boston bar scene really hit home for me recently: there's a bunch of cute, young guys in this town creating spectacular drinks. Evan Harrison's Nonantum, Tom Schlesinger-Guidelli's Northern Lights and Casey Keenan's Bohannon, to name a few. I'm besotted.
Take Harrison of the Independent — only a year or two out of college, and already he's figured out how to use the herbal, day-glo-yellow Italian liqueur Strega (a.k.a. "witch") in a cocktail. Check this out:
Nonantum
2 parts Old Overholt rye
1 part Punt e Mes
1 part Strega
1 dash each Angostura bitters and Regan's orange bitters
Stir over ice until very cold and strain into a chilled cocktail glass.
"It's a pretty clear take off of the Green Point cocktail, just substituting Strega and bitters for the Yellow Chartreuse," Harrison says.
"I came up with this in an attempt to find something to do with Strega apart from dust the bottle and answer questions about it. Strega is a cool little spirit with a cool history, but it's too sweet to shoot or even sip on its own, and I've never seen it called for in any recipe. Surprisingly, it draws out the bitter orange flavors in the Punt e Mes while letting the rye do its work. And also to Strega's credit, it gives the drink a cool, thick viscosity that kind of lingers in your mouth."
Yeah, that pretty much sums it up. The upshot is that this drink is worthy of distinction among its many rye-liqueur-vermouth brethren, including Drink's Fort Point.
OK, but the Nonantum? "The name comes from that village in Newton, where I was once stranded after a bizarre Catholic festival. I mistook the name for being Latin and thought it had something to do with their odd form of civic organization. I was wrong, but I still like the name." As Harrison later learned, Nonantum is in fact a Native American word meaning, appropriately, "rejoicing."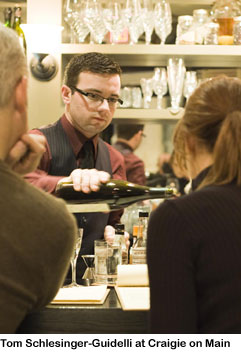 Schlesinger-Guidelli has barely cracked the quarter-century mark, but he already has some stellar cocktails to his name, notably the Jaguar and the new Northern Lights. The NL is one of those drinks where each layer of flavor shines on its own but contributes to a greater whole, like dance sequences in a great MGM musical.
The story behind the drink? "I took a week off between starting at Craigie and ending at Eastern Standard. I went down to Westport, MA, to work on the upcoming venture. One night of mixing with some of my best friends, this drink just came together. The late-night mixing and watching the stars, in cold New England … it reminded me of the vibrant Northern Lights."
Northern Lights
1 ½ oz William Grant & Sons Scotch
¾ oz. St. Germain Elderflower Liqueur
½ oz. Fresh lemon juice
¼ oz. Clear Creek Douglas Fir Eau De Vie
¼ oz. Fresh orange juice
¼ oz. Demerara syrup (1:1 demerara sugar and water)
2 dashes Bittermens 'Elemakule Tiki Bitters
Shake very well over ice, strain into a cocktail glass, and garnish with a lemon twist. Notes: Find demerara sugar (or sugar in the raw) at specialty stores like Christina's in Inman Square. Also, S-G is pretty insistent on the brand of scotch: "I think the honeyed nature of Grant & Sons is really beautiful here."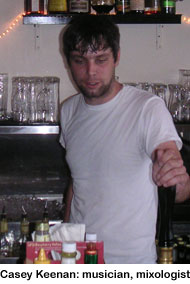 I admit I have yet to try Casey Keenan's Bohannon, but it came to my attention via a trusted source. When he's not playing drums for the Major Stars, Pants Yell! and other outfits, Keenan can be found at Deep Ellum. Recently, he took the Swedish Punsch that Ellum bar czar Max Toste made and created a cocktail with it that enamored Imbibe magazine enough to appear in the January/February issue. If you know Keenan and his love for 1960s and '70s music, you'll be amused but not surprised by the fact that he named the drink after disco producer Hamilton Bohannon.
Bohannon
2 oz gin
½ oz Green Chartreuse
½ oz Swedish Punsch
Pinch of fresh black pepper
Shake very well over cracked ice and strain into a chilled cocktail glass. Garnish with black pepper.
Tags: Boston cocktails, Casey Keenan, Evan Harrison, Tom Schlesinger-Guidelli
Posted in Bartenders, Cocktails, Liqueur, Whiskey | 8 Comments »