October 7th, 2008
Drink NH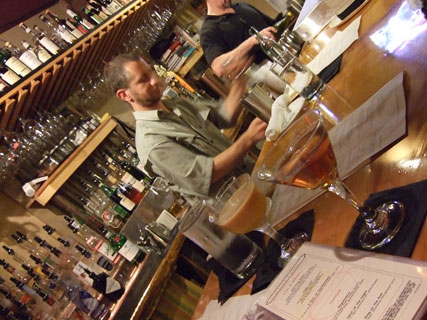 It's true — my home state has a bar worthy of cocktail geeks. You won't believe your eyes when you check out the White Mountain Cider Co.'s drink menu. This cozy, fine eatery in Glen (just a few minutes up Rte. 16 from North Conway) has the sort of small, rustic but well-stocked bar that you could imagine James Bond ducking into after an Alpine ski chase. Sazerac 6-Yr Rye? Fee Bros. Whiskey Barrel-Aged Bitters? Luxardo Maraschino? In NH? I had to pinch myself.
The Cider Co.'s chief bartender-mixologist is Jeff Grdinich, whom you may have seen around town lately. He was a finalist in the Hendricks Gin Beantown Bartender Battle in August, and he pops down here pretty regularly to hang out with his bartender colleagues and even sit in with them from time to time — he has done guest stints at No. 9 Park and Eastern Standard. And he was part of the Yankee contingent that made a strong showing at Tales of the Cocktail in New Orleans this year.
Jeff is equally comfortable with classic and molecular mixology; he can put out a faithful rendition of the 1937 Avenue Cocktail (bourbon, calvados, passion fruit juice, real pomegranate grenadine and orange flower water), as well as concoct a boozy homage to Duck L'Orange, complete with duck fat-infused spirits and Grand Marnier. His recipes have been published in the Wine Enthusiast and Nation's Restaurant News, and his Gin-esaisquoi — a mixture of Hendrick's, Lillet Blanc, falernum, egg white, orange bitters and cardamom dust that appears on the Cider Co.'s current menu — was chosen for Food & Wine Cocktails 2008.
My favorite cocktail during a recent visit was Jeff's own The Root of All Evil, which is inspired by Chuck Taggart's Hoskins. It's a mixture of Bulleit Bourbon, Grand Marnier, Luxardo Maraschino and Fernet Branca chilled well over ice and served straight up. It's as beautiful and soul-stirring as autumn leaves. Take a drive north, admire the foliage, then stop in at the Cider Co. and end the day with an exquisite cocktail. You'll feel like you've gotten away with something.
Permalink | Filed under Cocktails | Tags: New Hampshire bars