March 15th, 2008
The Independent – Best Boston bars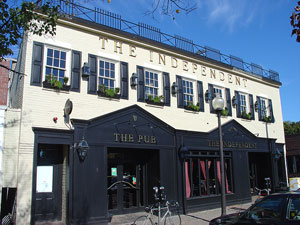 Established: 2001
Specialty: Cocktails, beer, wine
Prices: Moderate
Atmosphere: Take your pick — attractive neighborhood eatery on one side; cozy pub with board games and TV screens on the other.
See Best Boston bars for address and contact info.
The Independent in Somerville's Union Square is kind of like that middle sister who, after an awkward adolescence in which she was often overshadowed by her older and younger siblings, grew up to be the attractive, smart girl who's really easy to hang out with.
The Indo, as regulars call it, has made a series of tweaks to its concept over the years, trying to achieve the magic trick of appealing to a wide-ranging clientele while cultivating its own identity. Chefs have come and gone, as have periods of sub-par food. Funky cocktail-lounge seating has been installed and removed, cheese tastings and poker nights have had their run, and live musical acts have mostly given way to iPod playlists. Fortunately, in the past couple of years, the food, the drink, the service and the concept have all settled into a nice groove.
I'm partial to the drink, of course. The Indo's general manager, Jess Willis, is responsible for resurrecting vintage cocktails in Somerville. The frequently updated menu has included such gems as the Algonquin, the El Presidente, the Gin and It, and the Perfect Pal (Rittenhouse rye, Aperol, sweet and dry vermouth). Head bartender Evan Harrison is bringing his own enthusiasm for old-school mixology to the program, as well as helping to expand and improve the Indo's beer list.
Evan, his fellow bar crew, and the servers on the floor have a laid-back but professional style. Chef Paul Oberhauser's kitchen does a nice job with seasonal ingredients and satisfyingly simple dishes like steak frites and panko breadcrumb-crusted cod with bacon and clams. The burgers are good, too.
One of the nicest things about the Indo is that you can choose between two different spaces: the pub, a good place to watch the game or drink with a group of friends; and the restaurant, if you want to feel more like you're having an Evening Out. Either way, the food and drink stay the same, as do the reasonable prices: $7-$9 for cockails, $5-$7 for most beers, and $13-$24 for entrées.
Permalink | Filed under Boston bars, Cocktails |