December 22nd, 2007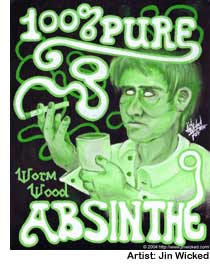 Unless you haven't picked up a newspaper recently, you know that absinthe — the strong, licoricey liqueur with the naughty reputation — is once again legal in the U.S. after a long ban beginning in 1912.
All the articles I've read about the spirit and its newly legit status seemingly rummaged through the same musty steamer trunk full of anecdotes and phrases associated with the Green Fairy: the supposed hallucinogenic, madness-inducing effects; the Belle Epoque and its absinthe-drinking artists, particularly the troubled ear slicer Van Gogh; the Swiss man who sparked the ban of absinthe in Europe by murdering his family while drunk on absinthe in 1905; the word "louche," which originally referred to the cloudiness that forms in the beverage during the ritual of dripping ice water slowly into the glass. All of the articles quote the chemist and absinthe historian Ted Breaux, who consulted on the creation of Lucid, the first absinthe on the American market. And they all employ that nonchalant tone newspapers use when reporting the latest craze over something controversial.
The story behind absinthe is indeed interesting, but, honestly, I felt like I've read the same article about seven times. Until I saw the one that Salon published this week: "Everything you know about absinthe is wrong."
"Let's clear up a few misconceptions," says the writer, Sarah Hepola. "Absinthe does not make you hallucinate. It is not wildly addictive. It will not cause you to lop off your ear, unless (possibly, on the off-chance) you are a deeply disturbed painter racked by poverty, heartbreak and mental illness. Rather, absinthe is a good drink." Strip away all the "lore and illegality," she argues, and what you actually have is a damn fine, complex beverage that deserves a place in the world of legal spirits.
But the lore and the lingering whiff of illegality are, of course, precisely why people are lining up at bars to order absinthe and take part in its peculiar serving rituals, with their slotted spoons, sugar cubes and fancy ice water fountains. And they're why the new absinthes on the market cost $60-$75 per bottle. Sure, distilling a good quality absinthe takes knowledge and skill. But that's true of a lot of herb-based spirits — green Chartreuse comes to mind. Its strength is similar to that of absinthe, it has been rumored to have mind-altering properties, and its complex recipe requires the distiller to be meticulous. But at around $35-$40 per bottle, it seems a relative bargain.
Jared Gurfein, president of Viridian Spirits, which produces Lucid, says in the Salon article, "We've sold thousands more cases than expected. There is a huge interest in absinthe. Unbelievable."
Cashing in on hype over a product, whether that product is good or bad, is nothing new. But I would say to today's absinthe drinker: if you don't realize that hype is what you're paying good money for, you must be hallucinating.
Posted in Absinthe, Booze in the news, Liqueur | 5 Comments »