December 25th, 2010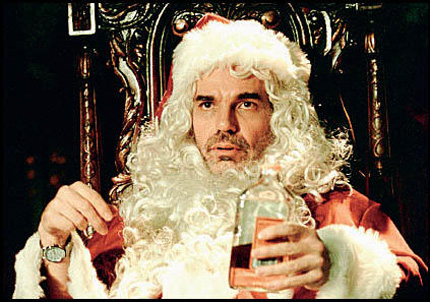 Imbibers, I hope you got that rare rye whiskey, vintage ice shaver or custom-sculpted muddler you wanted for Christmas. I got the recipe for Silent Night Punch from my friend Pink Lady of LUPEC Boston and warmed the cheeks of my loved ones in New Hampshire with it. Fa la la la la. La la la la. If you find yourself reaching deep into the toe of your Christmas stocking for that one last knick-knack you may have missed, Bad Santa has got you covered. May the following virtual goodies souse up your Christmas night:
Drinkboston mobile. Got an iPhone, Android, Blackberry or some other kind of smart phone? You can now use it to check out drinkboston without having to wait for the full site to load, 'cause I got a sweet new mobile version! You can save an icon on your homescreen, and sharing posts via Facebook, Twitter, etc is a breeze. Bars, bartenders and imbibing in Beantown just got a whole lot more excellent.
Vermouth 101. "The intent of these pages is to demystify vermouth, primarily for the American audience." From Martin Doudoroff, one half of the team that made every cocktailero's life easier with CocktailDB, comes a much-needed primer on this misunderstood cocktail staple. (Supporting roles played by Eric Seed, Romée de Gorianoff and Alexandre Vingtier.) Thank you, gentlemen, from the bottom of our livers.
Tiki+ app. The CocktailDB team also presents, in partnership with Jeff "Beachbum" Berry, the newly updated Tiki+ app. One hundred and fifty top-notch, vintage and contemporary tiki recipes, plus pretty pictures, for $3.99. Don't be a suffering bastard — download yours today!
2010 Devil's Dining Awards. MC Slim JB distills the best, worst and otherwise most memorable items from the year in dining (and drinking) into this wickedly smart, funny list. In my book, Slim is the best food writer in Boston.
Now… what are you doing New Year's Eve?
Tags: apps, Martin Doudoroff, MC Slim JB, tiki
Posted in Books & resources, Nips, Vermouth | 5 Comments »