May 2nd, 2010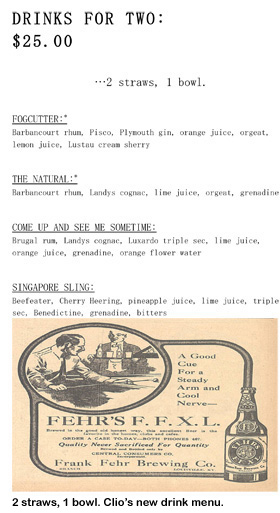 A friend of mine told me that an old flame put the moves on him recently after plying him with drinks. Acknowledging the futility of the attempt to rekindle, the old flame apologized for her brazenness. But she offered this excellent excuse: "It's spring, and I'm a mammal."
Well, it's spring, and I'm a blogger. So here's some link love…
» LUPEC Boston reviews Todd Maul's new bar menu at Clio, which leaves all previous bar menus at Clio in the dust.  "The 80-plus drinks … run the gamut," say the Ladies United for the Preservation of Endangered Cocktails, "from aperitifs ($9) to drinks for two ($25) to tiki drinks & daiquiris ($13), and feature a blend of pre-Prohibition and modern classics." Many of the offerings are designed to pair nicely with the raw delights at Uni, the sushi bar adjacent to the Clio bar.
» Speaking of tiki drinks … doesn't the balmy spring weather make you thirsty for the serious Donn Beach/Trader Vic-style versions of these rum-tastic cocktails? Sure, you can get them on demand at Drink, Eastern Standard and now, of course, Clio, among a smattering of other spots. But could somebody open up a REAL tiki bar in Boston, already? This city was once a tiki mecca, and, well, how 'bout sprucing up down-on-its-luck Downtown Crossing with a ridiculously fun bar? Silvertone and Stoddard's (yes, it's finally open!) can't do it all by themselves. Sheesh.
» Speaking of LUPEC Boston and new joints, one of the Ladies, Jane Robertson (aka Pinky Gonzales), does an astute write-up of Harvard Square's new Russell House Tavern for Joonbug (which reviewed drinkboston's Bartenders on the Rise event not long ago). She pretty much echoes drinkboston's first impressions of the place: it's got some baggage to overcome, but its bright spots — including the cocktail list and the horseshoe-shaped, marble bar downstairs — make us root for the place.
» Congrats to these talented barmen and women — who work in some of drinkboston's fave joints — for making the Improper Bostonian magazine's long-running Boston's Beloved Bartenders list: Trina Sturm of Trina's Starlite Lounge, Scott Marshall of Drink, Corey Bunnewith of Coppa and Ned Greene of Hungry Mother.
» Dan Okrent, whose Last Call: The Rise and Fall of Prohibition was recently reviewed on drinkboston, will talk about his book at an open-to-the-public lecture at the Boston Athenaeum on May 27. So much material here for us history-minded imbibers — reserve your seat starting May 14. And by the way, yours truly will be serving a Prohibition-era cocktail at the post-lecture reception (which also features wine, beer and cheese from Capone Foods).
» Speaking of alcohol, history and lectures, I'm also attending Boston Beer: a History with Michael Reiskind at the Boston Public Library on May 12. Oh, and speaking of beer, don't forget that the annual American Craft Beer Fest is coming up at the Seaport World Trade Center June 18-19.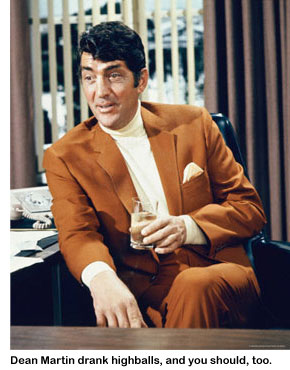 » If you like to drive your car to Boston-area bars but don't want to risk a DUI (or worse) on your way home, Boston's Designated Driver is a good service to know about. I haven't tried it out yet and would love to hear from anyone who has — leave a comment, will you?
» Hey, did you know that drinkboston and Trina's Starlite Lounge are having a Highballs party on Sunday, May 9? Reserve your ticket at 617-576-0006 or info@trinastarlitelounge.com and come party like it's 1965. See you there!
Tags: Boston Athenaeum, Clio, highballs, Improper Bostonian, LUPEC Boston, Prohibition, Russell House, tiki, Todd Maul
Posted in Bartenders, Beer, Booze in the news, Boston bars, Nips | 10 Comments »