July 5th, 2008
Saints of St. Germain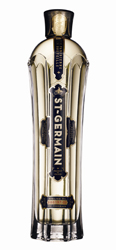 Boston bartenders made an impressive showing in a recent St. Germain Elderflower Liqueur mixology contest at Employees Only in New York City. Congrats to No. 9 Park barman Ben Sandrof for taking first prize, which came with a bounty of $5,000. Ben schooled competitors from some of the country's best cocktail bars, including Bourbon and Branch in San Francisco, the Violet Hour in Chicago, Dressler in Brooklyn and Seven Grand in L.A.
"I'm totally honored. The amount of talent in that room was pretty remarkable," he says.
Another Boston competitor, singled out by contest judge and "King Cocktail" Dale DeGroff for her original St. Germain cocktail, was Misty Kalkofen of Green Street. She summarized the competition, which she said "was nerve wracking":
The first round involed a "written test about spirits. The second round we were presented with four bottles marked A, B, C and D. We had two minutes to taste them and guess what they were. We then had five minutes to pick one of them and make an original creation for the judges. That was tough. Then the last round was building the cocktail you had submitted."
The last round almost did Ben in. Curdled cream and a broken glass tripped up his first two attempts at mixing his Sureau Fizz within the time limit, but he managed to twist an orange peel over his third attempt just as the horn blew. Nice work, Ben and Misty. You made us proud.
Here's the recipe for Ben's winning cocktail, the Sureau (that's French for elderflower, mes amis) Fizz.
Sureau Fizz
2 oz Beefeater gin
1/2 oz fresh lime juice
1/2 oz fresh lemon juice
1/2 oz simple syrup
1 oz St. Germain
3 drops orange blossom water
1 1/2 oz heavy cream
1 fresh raw egg white
1 oz soda water
Method: Shake all ingredients for 10-12 minutes and pour into a collins glass. Top with soda water. Garnish with orange oil.
And here's the recipe for Misty's drink:
Summer of Sureau
1 1/2 oz St. Germain
1/2 oz Batavia Arrack
1/2 oz fresh lemon juice
1/4 oz pineapple syrup*
3 dashes Bittermans Boston Summer Bittahs
Shake over ice and strain into a cocktail glass. *Pineapple syrup: pass fresh pineapple juice through a fine strainer lined with a cone filter (a coffee filter would work, too). Then take the pineapple water and make a syrup that's two parts pineapple water, one part sugar.
Permalink | Filed under Bartenders, Liqueur |