March 17th, 2010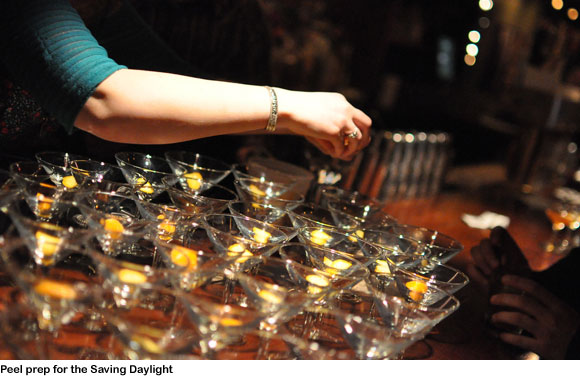 As we witnessed Sunday night, all that Boston imbibers need to lure them out of the house when it's raining sideways is the promise of a well-made cocktail and a good party. I applaud our hardiness — not to mention the emerging bar talent that made the evening possible.
Green Street, the venue and co-host for Boston Bartenders on the Rise, made the savvy decision of removing all the tables and chairs from the dining room to accommodate the sell-out crowd. We were warmly welcomed with a beer cocktail by Green Street proprietor Dylan Black called De Stella Nova: Pretty Things Jack D'Or Belgian-style farmhouse ale, 2 dashes of orange bitters and a candied citrus star flavored with coriander.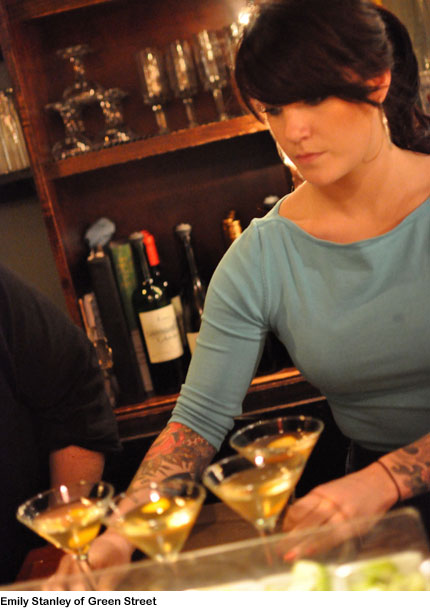 We then moved on to the four original cocktails created for the occasion by our featured talent (recipes and creators listed below in serving order). I circled the place again and again to say hello to everyone while sneaking the occasional fried oyster, chicken rillette, grilled shrimp on a skewer, or juicy slider (thank you for the lovely apps, chef Greg Reeves!).
Many, many thanks to those who traveled both near and far to join in on some drinkboston-style fun. Thanks also to Sean Frederick for the photos and the entire smooth-operating Green Street staff. Let's do it again soon!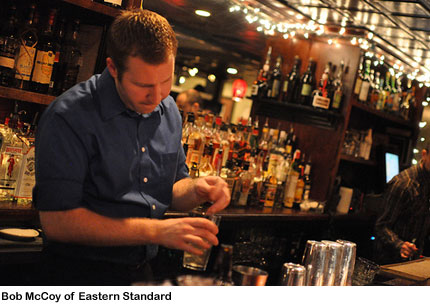 Loose Translation
Carrie Cole, Craigie on Main
1 1/4 oz Scorpion mezcal
3/4 oz Aperol
1/2 oz Mathilde XO orange cognac
1/2 oz pineapple syrup
1/2 oz lime juice
Pinch kosher salt
Dash Allspice Dram
Quick shake over ice, pour entire contents into a highball glass, and top with a splash of ginger ale. Drinkboston: We need something fruity on the menu. Carrie: I'm thinking of using mezcal. Result: a loose, tiki-inspired translation.
Peralta
Evan Harrison, Deep Ellum
1 1/2 oz Old Overholt rye
1/2 oz Cynar
1/2 oz green Chartreuse
1/2 oz fresh grapefruit juice
Dash grapefruit bitters, Deep Ellum orange bitters
Shake over ice and serve straight up with grapefruit peel garnish. Inspired by skateboarding legend Stacy Peralta.
Saving Daylight
Bob McCoy, Eastern Standard
2 oz Plymouth gin
1 oz McCoy's homemade golden vermouth
1/4 oz St. Germain
1/8 oz Cointreau
Dash McCoy's aromatic bitters
Stir over ice, strain into a cocktail glass, and garnish with orange peel. Sip as winter turns to spring.
William of Orange
Emily Stanley, Green Street
1 1/2 oz Bols genever
1/2 oz Benedictine
1/2 oz Punt E Mes
1/2 oz Aperol
Dash orange bitters
Stir over ice and serve down (i.e. strain into a rocks glass). Named for the English king who ushered in the era when Dutch genever became English gin.
Tags: Bob McCoy, Carrie Cole, Dylan Black, Emily Stanley, Evan Harrison, Green Street, mixology
Posted in Bartenders, Beer, Boston bars, Cocktails, Events, Gin, Whiskey | 4 Comments »