October 24th, 2006
Eastern Standard – Best Boston bars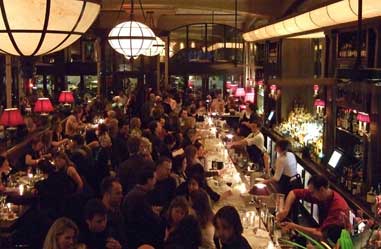 Established: 2005
Specialty: Cocktails
Prices: Moderate to high
Atmosphere: Spacious, stylish bar with a pre-Prohibition era look, outstanding vintage cocktails, old-school professional service, and an American food menu suitable for many wallets.
See Best Boston bars for address and contact info.
Boston needed a place like Eastern Standard. The city is full of Irish pubs, cramped bars in exclusive restaurants, tony lounges catering to the Apple-tini set, and opulent hotel bars that only executives can afford. By contrast, Eastern Standard is a spacious, brasserie-style restaurant with a roomy bar area and a menu that has something for everyone but is not dumbed-down in the least. You can get a cocktail and a bar snack, like oysters or cod cakes; you can have a serious dinner with wine, dessert, the works; or you can have a beer and a dog. Owner Garrett Harker (formerly a partner with Barbara Lynch of No. 9 Park) and his staff run a pleasingly tight ship, with cocktails and service that are never half-assed.
The young, white-shirted bar staff, led by Jackson Cannon, are among a new breed of barkeep that takes mixology and service seriously. But they're never over-earnest or snooty. For example, along with the historically correct Alaska and Filmograph cocktails on the menu, you have the Rat. This drink is made of the strong, bitter spirit Fernet Branca (what Cannon calls "Jagermeister for men") and Coke and is named for the dive rock club that once stood on this spot in Kenmore Square. The bar crew is also knowledgable about wine, and they pour a stellar beer list that includes small (read: affordable) bottles of De Ranke XX Bitter from Belgium and draught Czechvar (aka Budvar). Eastern Standard is one of a handful of restaurants in the country chosen by the Czech brewery to introduce its delectable draught pilsner to the U.S. market.
Minor drawbacks: since Eastern Standard is connected to (but not owned by) the upscale Hotel Commonwealth, you'll come across some corporado-types who make a show of ordering shots of the most expensive tequila before heading off to their box seats at the Sox game. And the background music is an impersonal mixed bag of jazz and soul designed not to offend.
Permalink | Filed under Boston bars |