November 29th, 2007
The most fun I ever had at a library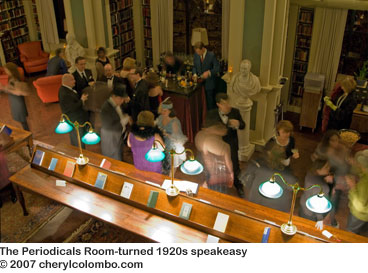 Last night, the Boston Athenaeum, one of America's oldest private libraries, threw a Roaring Twenties party for some of its members with the help of drinkboston. There was a password to get in ("Gatsby sent me"), a secret entrance to the Periodicals Room where the festivities were held, a jazz band, cucumber sandwiches and, naturally, vintage cocktails (see below). Also, every attendee was handed an antique playing card; the game was to find the other partygoer with the same card and write something down about that person in the guest book. In the end, a man in a smoking jacket tried to bribe the fuzz who raided the speakeasy, but nothing doing — they sent us off to where we belonged: the 21st Amendment.
The party was thrown for the Athenaeum's "associate members" (aka members 41 and under), some of whom, like me, helped plan the shindig. Not surprisingly, I was in charge of making sure we had quality hooch. Enter some of Boston's best bartenders — John Gertsen, Misty Kalkofen and Tom Schlesinger-Guidelli — and the signature cocktails they created just for the event. One of those drinks, the Red Rot Cocktail, was specially commissioned by the Athenaeum as an homage to book restoration. That's right — many of the library's old, red leather book covers suffer from "red rot," a pinkish mildew whose remedy is a chemical solution known as "red rot cocktail." The recipes below appear as I wrote them for the party's program, in a style cribbed straight from Prohibition-era bon vivant Charles Baker, who wrote the Gentleman's Companion.
The Athenaeum is trying to get the word out to potential younger members that you don't have to be a Mayflower descendant to join. All you need is four references and $115 for a one-year associate membership. If you have even the faintest interest in history or are simply proud to say you live in Boston because of its intellectuals, join up and see how you like it. The recently restored building is gorgeous, there's fine art all over the place, there are tons of events, and the items in the Special Collections are damned impressive. George Washington's library? Yeah, it's there. And they throw a smashing party, too.
Red Rot Cocktail, which Rather Resembles the Noxious Liquid Medicine for Moldy Red Leather-bound Books but Nonetheless Pleases the Palate
To one jigger of London dry gin add one half ounce each of St. Germain elderflower liqueur, Cherry Heering and fresh lemon juice, and two goodly dashes of Peychaud's bitters. Shake vigorously with ice and turn into a champagne saucer. (Created by Misty Kalkofen of Green Street and Lauren Clark of drinkboston)
Foglia Noce (Walnut Leaves), being a Mixture Inspired by the Marconi Wireless and Evocative of Tuscan Autumns and Colonial Taverns
Into a bar glass turn two and one-half ounces of applejack, one ounce of Nocino and two judicious dashes of Fee's Whisky Barrel Aged Bitters. Stir with lump ice, strain into a chilled Old Fashioned glass and finish with orange oil. (Created by John Gertsen of No. 9 Park)
Flowers for Murphy, being a Bracing and Bubbly Homage to Prince and Princess of the Jazz Age Gerald and Sara Murphy, who Inspired us with a Mixture Called the Bailey
Lightly chill one jigger of London dry gin, three-quarters ounce of simple syrup, a split of lime and grapefruit juices to equal another three-quarters ounce, and one-quarter ounce of green Chartreuse. Turn the mixture into a champagne saucer and top it with bubbly and a small mint leaf. (Created by Tom Schlesinger-Guidelli of Eastern Standard)
Permalink | Filed under Applejack, Bitters, Champagne, Cocktails, Events, Gin |