January 5th, 2007
Digging Deep Ellum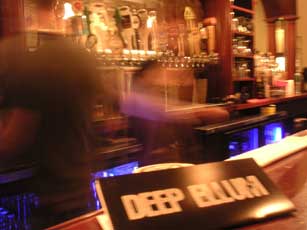 Max Toste and Aaron Sanders were still upwrapping stacks of coasters and wiping sawdust off the bar last night when we walked into their brand-new joint, Deep Ellum (477 Cambridge St. in Allston), on opening night. The former management team of Bukowski Tavern in Cambridge, Max and Aaron partnered with Bukowski chef Josh Velasquez to realize the dream of running their own place. I am going to make a bold statement about a bar that's only been open 24 hours: Deep Ellum is the coolest bar in Allston. Not that there aren't other good drinking spots in this neighborhood, but these gentlemen made Bukowski one of the Boston area's best bars, and I fully expect them to do the same with the new place.
Deep Ellum is named after a hip, "urban village" in Dallas, Texas, which is Aaron's hometown. (We can only hope someone in Deep Ellum opens a bar called Allston.) The place is small — a narrow room with about 10 small tables and about 20 seats at the bar. The wood is dark, the walls are a light, muted green, and the acoustics are favorable (Love played over the nice, new sound system.) "International comfort food" is the theme of the menu: burgers, Hebrew National hotdogs, grubbins (fried cod served between potato pancakes), Moroccan lamb shank, cassoulet. I don't think there's anything on here over $18, which is a relief. Not surprisingly to anyone who watched him in action behind the bar at Bukowski, Max has put together a top-notch beer menu. It includes all the finery (Trappist ales) and none of the fluff (Seadog Blueberry Ale) found at Bukowski. The 22 drafts include De Ranke XX Bitter from Belgium, Thomas Hooker's Liberator Dopplebock (Connecticut), and Mahr's, a delicious pilsner from Bavaria, Germany that you rarely see in the U.S. Of course, you can get a can of 'Gansett, too, and there are 100 different bottled beers.
The thing that really makes Deep Ellum a "new style of beer bar," as Max puts it, is the fact that they're making classic cocktails in addition to offering great beer. Wow! "I'm making my own grenadine, my own cocktail onions. No bullshit, no Rose's," Max says. One of his specialties is the Green Opal — gin, bitters, absinthe and sugar — not to mention a wide selection of good bourbons. Deep Ellum is open seven days a week from 11:30 a.m. – 1:00 a.m. For more information call 617.787.BEER.
Permalink | Filed under Beer, Boston bars, Cocktails |