May 19th, 2010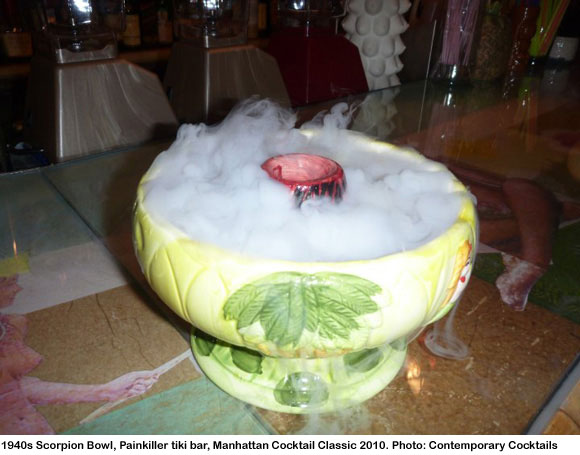 It started with a festive gala amid the marble-and-granite splendor of the New York Public Library and ended (for me, at least) with a wee-hours dinner at the 1930s-Eurasian-exotica-inspired Macao Trading Co. In between, I …
Ate an exquisite smorgasbord at Aquavit with Karlsson's vodka reps (that's right, I said vodka) and a bunch of sassy bartenders from L.A. and San Francisco.
Drank punch at Death & Co. and tequila at the Summit Bar.
Heard Fritz Maytag of Anchor Brewing and Distilling chronicle his 15-year adventure in craft distilling and sampled his 100-percent-rye Old Potrero whiskies.*
Enjoyed Laird's apple brandy cocktails at the "official bar of the Manhattan Cocktail Classic" and met the 230-year-old distillery's vice president, Lisa Laird Dunn.
Took detours to McSorley's Old Ale House and Jimmy's No. 43 for a few rounds of beer.
Entered a phone booth at Crif Dog from which I slipped into PDT (Please Don't Tell) for a Romeo y Julieta, a rich, woody concoction involving Ron Zacapa Centenario rum and tobacco essence.
Sipped a Mai Tai accompanied by exotica music and the squawking of live parrots at the exclusive (because it's in somebody's apartment) Rhum Rhum Room.
Heard the engaging story of how cocktails migrated from America to Europe circa 1870-1940 (thanks, David Wondrich and Fernando Castellon).
Checked out a special tasting of new and unusual rums, whiskies, aperitif wines and syrups at wd-50.
Drank a 1940s-era Scorpion Bowl out of a two-foot-long straw at an Appleton Estate Rum party at the brand-new Painkiller urban tiki bar.
Clinked vintage cocktail glasses with my writer girlfriends at the new, Victorian-parlor-inspired Raines Law Room.
Arrived too late to get a cocktail at the Tanqueray 10 party at the Kingswood and was grateful to be handed a glass of Haus Alpenz' newest import, the aperitivo Cocchi Americano, instead.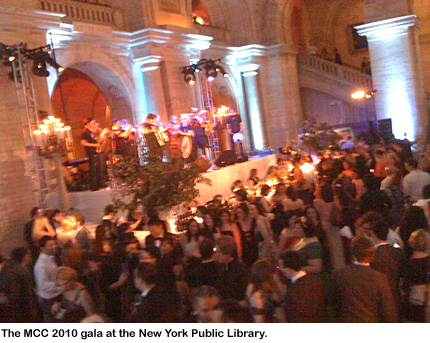 So, as you can see, the opportunities for learning, schmoozing, tasting and debauchery at the first official Manhattan Cocktail Classic were slim.
But seriously … this four-day intoxinalia is clearly meant to rival Tales of the Cocktail in New Orleans as a confab for professionals and enthusiasts alike to get acquainted with the latest products, recipes and industry knowledge and to hobnob with the illuminati of the cocktail and spirits world.
One of the advantages the MCC has over Tales is that there are many more serious cocktail bars in New York than in New Orleans, and those bars hold their own seminars in addition to the events taking place in the Astor Center — and in addition to being open during regular business hours. Also, every event featured real glassware, and the vast majority of the cocktails were well made despite being cranked out for thousands of people. The hospitality infrastructure in New York quite simply gets the job done.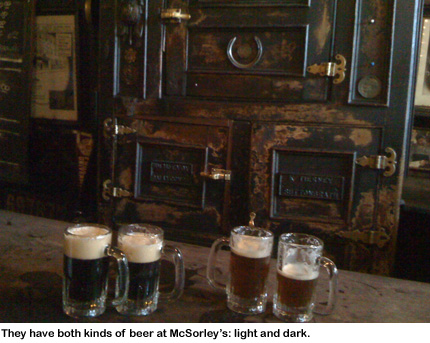 The disadvantages of the MCC vs. Tales have to do with all those things about New York that get under people's skin: the frenetic pace and social jockeying involved in a typical night out, the difficulty of getting into exclusive speakeasy-style bars and, of course, the expense. Tickets to MCC events start at $50 (the gala was $100). Add lodging, cabs and dining out and … whoa. Still, it was a blast.
Tags: Manhattan Cocktail Classic, tiki
Posted in Booze in the news, Cocktails, NYC | 7 Comments »