July 17th, 2009
Tales '09 highlight reel
This year's Tales of the Cocktail in New Orleans was a bigger, more colorful swirl of people and events than ever before. More old friends, more new acquaintances, more running around the city, more parties, more bars, more New Orleans culinary delights, more tequila. It was a sweeping epic taking place over a mere five days and ending with a languid afternoon in a pool with a rum cocktail.
My first post on Tales '09 gave you a taste. Now here's the highlight reel.
The events
The highlight of Using Blogs and Online Tools to Promote Your Bar, Brand or Career was seeing Robert Heugel of Anvil Bar & Refuge in Houston as one of the panelists. I met Robert at my similarly themed panel at last year's Tales, just as Anvil was getting underway. He was looking for ways to promote his classic cocktail bar in a community where the clientele for that sort of thing was seemingly nonexistent. Well, he began talking about Anvil on his blog, Drink Dogma, and began to get noticed. Today, Anvil is one of the most celebrated new cocktail bars in the country. Congrats, Robert!
Also: World's Biggest Bar Crawl. Over 70 bars lovingly and wittily described by jetsetting British brand ambassadors Simon Ford and Angus Winchester. And I didn't think I had a reason to fly to Bratislava, Slovakia (home of the bars Paparazzi and UFO). Beefeater Welcome Reception in the swank, newly remodeled Roosevelt Hotel. Strooong drinks with Beefeater's new "24" gin (it's got a hint of green tea), including Audrey Saunders' lovely, frothy take on the classic White Lady. Thank god I had a pillar to lean on — John Myers, who, with Wayne Curtis, would fittingly educate me about hangovers at Sunday's Paying the Piper: Your Hangover and You. Talking cures and hair of the dog, Myers suggested everything from Pedialyte to coconut water to Fernet Branca to "a cold beer in the shower — hot scrubbing bubbles on the outside, cool scrubbing bubbles on the inside." And then there were Dale DeGroff's dueling solutions for preventing hangovers: "Don't start drinking. Don't stop drinking."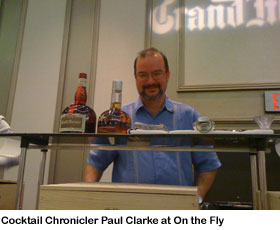 The parties
Steve Olsen and his wine geeks staged their customary unsanctioned (i.e. not organized by Tales) madness this year at Tommy's Wine Bar, with a well-choreographed line of bartenders shaking up mezcal-based cocktails. Rob Cooper of St. Germain attempted to get arrested by throwing an illegal party on the steps of the Louisiana Supreme Court House with free-flowing elderflower liqueur and tequila punch (Is tequila the new rye? Are punch parties the new raves?) Finally, the annual Bartenders' Breakfast at the swanky Latrobe House, with bartenders from Milk & Honey, PDT and the Edison Room, among others, cranking out craft cocktails amid a sea of mourners from the funeral march of the Redheaded Slut.
The bars
Bars I visited and drinks I had there: Laid-back hipster bars: Mimi's in the Marigny (Rolling Rock), d.b.a. on Frenchman St. (a beer and a sip of someone's cognac). Historic bars: Napoleon House (Pimm's Cup), Tujagues (De La Louisiane), French 75 Bar (Vermouth Sour). Live-music joint: Vaughan's (High Life). Cocktail bars: Sazerac Bar (Sazerac, Blood & Sand), Cure (Old Fashioned). The French 75 Bar at Arnaud's, where for some strange reason I had not been until this year, is such a beautiful time machine, and when Chris Hannah is mixing drinks you have yourself a New Orleans bar experience to remember. Cure is the first contemporary craft cocktail bar in New Orleans, with a talented staff led by Kirk Estopinal, formerly of the Violet Hour in Chicago. The charmingly ornery Paul Gustings of Tujague's harrumphed about new cocktail bars like Cure ("I heard it takes 15 minutes to get a drink there!") while at the same time talking up the classic cocktail menu he's developing (for the unlikely occasion when you don't simply order a Sazerac). Hey, with Paul on board, this cocktail craze really must be getting somewhere.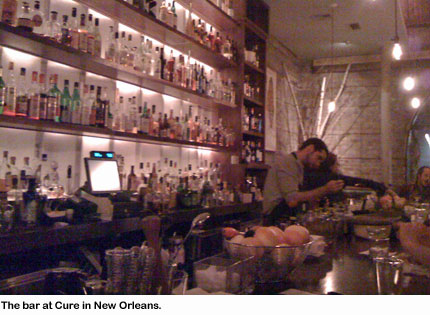 Extra credit
Stayed an extra day in New Orleans, which meant I was able to enjoy a laid-back pool party with Wayne Curtis, Jeff "Beachbum" Berry, Misty Kalkofen, Chris Hannah, Martin Cate and various significant others and friends. While Misty's pitcher of Hanky Pankys chilled in the freezer, Chris came up with this gem, one of the most delicious drinks I had all week:
Fernet Swizzle
by Chris Hannah, French 75 bar
3/4 oz Travellers rum
3/4 oz Havana Club anejo blanco rum
1/2 oz fresh lime juice
1/2 oz falernum
1 oz fresh orange juice
1/4 oz pineapple juice
1/4 oz Fernet Branca
3 cubes cantaloupe
"Shake, pour and have by the pool," says Chris.
Until next year, then…
Permalink | Filed under New Orleans | Tags: Tales of the Cocktail 2009