April 20th, 2009
Andy McNees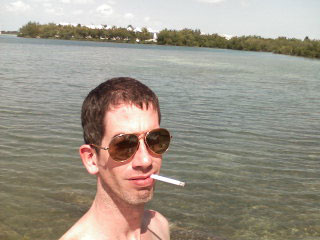 Bartender profile
Andy McNees is one of those rare specimens who gets away with being a wise-ass. That's because the smirk he greets you with has a way of turning into a grin that reveals his flip side: loveable dork. He freely admits to this persona, even offering proof: he has been involved for four years running in a Dungeons and Dragons game with several restaurant-industry colleagues. ("D&D is the new poker," he declares.) He politely declines to reveal the identities of his co-gamers.
McNees' current gig is at Green Street, whose neighborhood-hangout vibe and classic cocktail-focused bar are a good fit for someone who has worked in spots both cool (B-Side, Bukowski) and classy (Eastern Standard). With a tall, lanky guy's stride and a long reach, he moves fast without seeming to, and he adjusts seamlessly from the customer who wants a shot and a beer to the one ordering a complicated egg cocktail. Also, though he doesn't broadcast it, he's a huge sports fan. If you catch him during a lull and want to talk old-school stats (Honus Wagner's 1904 batting average, anyone?), you're in luck.
And if you're curious about what it's like to grow up in Oak Ridge, Tennessee (a town built in the early 1940s as a base for the Manhattan Project), the son of Army folk and the grandson of a nuclear physicist, you can ask him about that, too.
Hometown
Oak Ridge, Tennessee.
Past bartending jobs
B-Side, Bukowski (Cambridge), Eastern Standard, 608, Zuzu, Kings.
First drink you ever had
A can of Budweiser.
Favorite bar in (greater) Boston other than your own
Charlie's Kitchen.
Best Boston bar(s) to watch sports in
Charlie's Kitchen.
If I weren't a bartender, I'd be…
An astronaut.
A bartender's best friend is…
A church key.
A bartender's worst enemy is…
Broken glass.
Dumbest thing you've heard in a bar
"No Coors Light? OK, I'll have a dirty Belvedere martini."
Most profound thing you've heard in a bar
I can't remember, but I probably said it, and I was probably drunk.
What you say at last call
Anything I have ever said at last call was completely lifted from, or indirectly influenced by, watching Joe "Steamboat" McGuirk. He's pretty good at it. Nicole from Eastern Standard has my favorite "last call face."
Main difference(s) between drinking in Boston and in Tennessee
Last call is later in the Volunteer State. Buying a suitcase of Budweiser at 2:57 a.m. from the corner 7-11 gives Tennessee a pretty sweet edge. However, if your bag is "craft cocktails" and you live in Rocky Top, you might be mixing drinks in your basement. A couple years back a buddy of mine from high school came to Boston for a week, and I turned him on to Fernet [Branca] pretty hard. After returning home he spent nearly a year combing the Southeast for the black eagle. I think he finally found some in Key West. Lucky for me, when I went home last Christmas a local liquor store had started carrying it, and my buddy liked to buy it… So we drank Fernet and played darts under the lights of his Christmas tree. Also, I have redneck friends back home whose family members make white lightning.
Least appreciated alcoholic beverage in Boston
Rum is pretty awesome. During the summer an ice-cold Miller Lite draft at Eastern Standard is pretty amazing. I kinda want to pour it down my pants, especially if Kit is working. Also, I really like Fighting Cock Bourbon.
Most overrated alcoholic beverage in Boston
Sam Adams.
Permalink | Filed under Bartenders | Tags: Andy McNees