February 20th, 2008
Highland Kitchen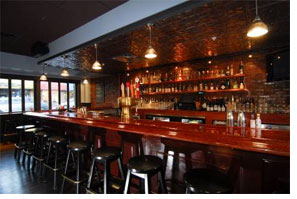 You would think, from the buzz that began the day it opened for business, that Highland Kitchen was the very first restaurant to open in Somerville. It seems everywhere I go, someone is asking someone else, "So, have you been to Highland Kitchen yet?" I've lived in Somerville for a long time, I've seen some good restaurants come and go, but I've never seen anything like this level of excitement.
Is it warranted? Pretty much. What we Somervillians essentially have with Highland Kitchen is our first neighborhood restaurant owned by a noted chef who is offering consistently well made, but not too fancy, food and drink in the perfect price range. (Entrees under $20, surprisingly large cocktails $7-$8). Highland Kitchen is to the 'ville what the Franklin Cafe is to the South End or Green Street is to Central Square in Cambridge. Which makes sense, because the chef-owner, Mark Romano, used to be the chef at Green Street and its former incarnation, the Green Street Grill, drawing legions of fans with his Caribbean-influenced dishes. He's slipping some of that cuisine in here and there, but basically this is a menu of the comfort variety, with steak frites, bluefish cakes, a "Cuban Reuben," gumbo, burgers, etc.
Part of the enthusiasm over Highland Kitchen stems from its location in a spot, outside of the city's main squares, that has never had a destination restaurant. People who live in neighborhoods north of Highland Ave. no longer have to trek to Davis or Union squares to get a nice dinner. And Highland Kitchen is staffed with pros, so it hasn't seemed to suffer the dreaded kinks that need to be worked out in the first few months of business. Romano's wife and partner, Marci Joy, was (according to the Globe), a manager at East Coast Grill. The servers and bartenders have logged many hours at other respected establishments around greater Boston, including No. 9 Park, Upstairs on the Square, the Independent and Gaslight. I wasn't surprised at all when I found Joe McGuirk working behind the bar during my most recent visit.
Michael, the bar manager, is a gracious guy who has put together a short but decent cocktail list with a few things — like the Bourbon Smash, the Brandy Flip and the Periodista — that appeal to vintage cocktail enthusiasts like me. There are daily blackboard specials, too. Aware of McGuirk's knowledge of vintage recipes, I embarked on an off-menu expedition by asking for a Frisco. Alas, there was no Benedictine (only B&B). Then Michael suggested a Red Hook. Uh — yes please! Good food, good service, good prices and Red Hooks? Highland Kitchen's not the first restaurant to open in Somerville, but I'm going to go ahead and say it's already among the best.
Permalink | Filed under Boston bars, Cocktails | Tags: somerville