August 28th, 2009
Nips – 8/28/09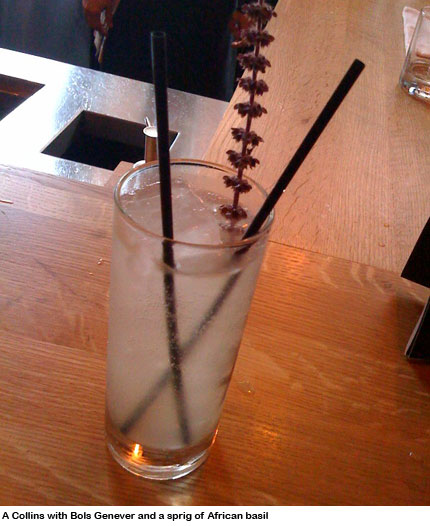 Liquors launched. Bols Genever and Absolut Boston launched in Beantown recently. You will see the former at the city's best cocktail bars. You will see the latter everywhere else.
Genever is an old Dutch spirit that, while it gave birth to modern-day, London dry gin, is in its own category. You could call it the whiskey drinker's white spirit. It's made with malted grain, same as whiskey, so it has a depth of flavor even before botanicals are added. If you want to time travel back to the days when Jerry Thomas was mixing up Improved Holland Gin Cocktails, this is your vehicle. Cocktail Virgin Slut and C. Fernsebner of the Bostonist both did fine writeups of the Bols Genever launch party at Drink.
As for Absolut Boston, what can I say? It's from the benchmark vodka brand whose brilliant marketing made it an icon and launched the category of premium vodka into the stratosphere. It's part of a series of special-edition flavors inspired by cities, in our case black tea (historically apt) and elderflower (currently trendy). It'll sell like gangbusters.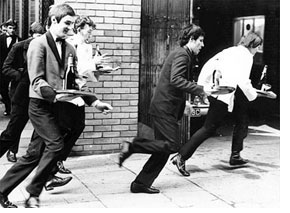 Bartenders on the move. Wow, where to begin? With the ladies — the Ladies United for the Preservation of Endangered Cocktails, that is. Joy Richard (aka Bourbon Belle) left her longtime gig managing Tremont 647 to manage and work the bars at both Franklin Cafes (South End and Southie). She is kicking cocktails up to a new level at these beloved neighborhood spots. Emma Hollander (aka Hot Toddy) also left Tremont 647 and will christen the shakers at Trina's Starlite Lounge in Cambridge (where the Abbey used to be), whose soft opening should begin next week.
Now for the men. Andy "Hunter S. Thompson" McNees is moving from Green Street in Central Square to Toro in the South End. His esteemed colleague Nathan Bice (aka "just Bice") is heading slightly northwest to Highland Kitchen in Somerville. Speaking of Highland Kitchen, I should also mention that Claudia Mastrobuono is leaving the bar there to go back to school. I'll miss her skills and no-nonsense attitude. Meanwhile, joining Dylan Black and Emily Stanley behind the bar at Green Street are Colin Kiley, lately of Central Kitchen, and Joel Mack, lately of Deep Ellum in Allston (and Redbones before that). And to complete the circle, Patrick Sandlin just stepped behind the bar at Deep Ellum after managing Bukowski in Boston. Finally, Ben Sandrof will no longer be working behind the bar at Drink — or any bar at all for that matter (sniff). But he'll remain a key figure in Boston's booze world with his new career in wholesale at M.S. Walker. Whew! That was dizzying. If I'm missing anyone, let me know.
Manhattan & Montreal. If you missed Tales of the Cocktail and have a hankerin' to schmooze and booze with fellow cocktailians from around the globe, you should get tickets to the Manhattan Cocktail Classic Fall Preview on October 3 and 4. This is a mini-conference to prep for a larger event in May, and, given the buzz I've heard, it could be a quick sellout. The details are still vague, but all you really need to know is that these are the organizers. Oh, I hear there are a few good cocktail bars in Manhattan, too. Tickets go on sale Labor Day weekend. Book your hotel now. Speaking of Tales and Manhattan, read On the Rocks, It's a New Landscape in the New York Times if you haven't already.
As for Montreal, I'm seeking news rather than reporting it. Specifically, does anyone know of any connections between the bar/restaurant scene in Montreal and the bar/restaurant scene in Boston? Like, Boston bar owners who are from Montreal, Boston bars that are using ice wine from Quebec, or dedicated barflies who divide their lives between the two cities… Anyone?
Permalink | Filed under Bartenders, Books & resources, Booze in the news, Cocktails, Gin, Nips, Vodka, Whiskey | Tags: Absolut Boston, Bols Genever, Manhattan Cocktail Classic