August 9th, 2006
Dylan Black – Green Street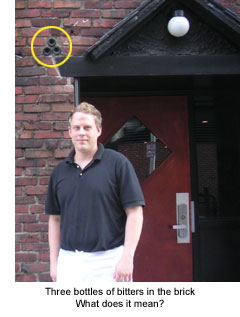 Bartender profile
Dylan Black was a Central Square ruffian who started busing tables on the other side of Cambridge, at Upstairs on the Square, when he was 17. He worked his way up the ranks in various restaurants to waiter, bartender, and, finally, bar manager before coming back to his old 'hood and buying this beloved, old institution in January 2006. He has maintained the quality of food for which the former Green Street Grill was known. More importantly, he and his crack team of bartenders from among Boston's best have improved the variety and quality of drinks.
Dylan is unabashedly excited to be running his own place, and his good vibe is infectuous as he greets everyone who walks in the door. But he's casual and doesn't overdo it. He's like that cool kid in high school who threw the best parties by somehow attending to everyone's liquid, musical, and social needs while being completely at ease and enjoying a few games of quarters.
If you catch Dylan during a lull in business, ask him to mix you a Daisy Black (Old Overholt rye, fresh lemon juice, honey syrup) — an homage to his great grandfather's bartending nickname — and tell you about the history of the establishment. You'll learn that Green Street has Cambridge's oldest operating liquor license, issued in 1933, that the original proprietor saw fit to embed three bottles of Angostura Bitters in the brick outside the front door (see photo above), and that there is a "huge" old sign in the attic for Charlie's Tap, which occupied this space in the 1940s. With a glint in his eye, Dylan muses over "what has been going on in this room before me."
Hometown
Cambridge, MA.
Past bartending jobs
Redbones, B-Side Lounge, Chez Henri.
First drink you ever had
A Foster's "oil can."
Favorite bar in Boston other than your own
Reggie's bar at the Blue Room.
The drink you most like to make
Negroni. A perfectly balanced cocktail full of flavor.
The drink you least like to make
White Russians in a pint glass.
What you drink at the end of your shift
Cold beer or the open wine from the shift.
If I weren't a bartender, I'd be…
Making license plates for the Commonwealth of Massachusetts.
A bartender's best friend is…
A great chef.
A bartender's worst enemy is…
A drunk chef.
People drink too much…
Olive juice.
People don't drink enough…
Water.
Drink for a hot summer day
Iceberg (1 1/2 oz Plymouth gin, 1/2 Ricard, shaved ice, sprig o'mint).
Drink for a cold winter night
Belle & B (1 1/2 oz brandy, 1/2 oz Belle de Brillet in a snifter).
The best thing about drinking in Boston
Drinking on the Charles. I love to drink along the River, on any of the benches, under any of the bridges, I don't care, I love the River!
The worst thing about drinking in Boston
The cops may arrest you for drinking on the Charles.
Permalink | Filed under Bartenders |