July 18th, 2006
Redbones BBQ – Best Boston bars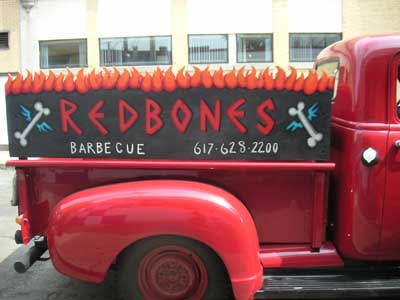 Established: 1987
Specialty: Beer
Prices: Low to moderate
Atmosphere: A friendly combination of beer enthusiasts, neighborhood barflies, and hungry carnivores eat barbecue and drink beer in a setting that's part down-home, part gritty-urban, and part artsy. Probably the Boston area's best combination of really good food, great beer selection, and reasonable prices.
See Best Boston bars for address and contact info.
Redbones gets it right, and that's why it has been around for almost 20 years. Consistently good barbecue, a selection of craft beers that focuses as much on quality as quantity, efficient service, and fair prices draw us back there again and again. That and the fact that there are two bars: one upstairs, one down (known as Underbones).
In addition to being a barbecue restaurant, Redbones was also one of greater Boston's first beer bars (a bar that specializes in a wide selection of craft beer), along with the Sunset Grill & Tap in Allston, which also opened in '87. Owner Robert Gregory has supported craft brewers from day one. He was one of the founders of the New England Real Ale Exhibition held every year in Redbones' neighborhood of Davis Square. He was the first bar owner in Boston to regularly bring in draught beer from the brewing mecca of the Northwest. And he regularly invites some of the country's best craft brewers (Bill Covaleski of Victory in PA, Garrett Oliver of the Brooklyn Brewery in NY, Will Meyers of our own Cambridge Brewing Co., Tod Mott of the Portsmouth Brewery in NH) in to pour and talk about their beer. Bar manager Chris Bol does the crucial job of making sure that kegs are rotated and draught lines are clean — you don't want to be in a beer bar where this doesn't happen, because craft beer's shelf life is way shorter than Bud's.
On the flipside of the beer equation, Gregory deserves credit for putting Schlitz and PBR on the menu way before they became the favored brands of bike messengers and twenty-something hipsters. Redbones' Dial-a-Beer wheel also started a trend picked up by another Boston beer bar, Bukowski Tavern, and its sibling in Cambridge. Finally, Redbones' deserves special praise for keeping its beer prices lower than those of any other beer bar in greater Boston. Example: on a recent visit, a pint of Southern Tier IPA (NY) was $4.25 (compared to $4.50-$5.50 elsewhere for a small-batch U.S. craft beer), and a 10-oz draught of De Ranke XX Bitter from Belgium was a bargain-basement $5 (this would easily have been $7 elsewhere). Liquor and wine are available if beer's not your thing. May Redbones be around for another 20 years.
Permalink | Filed under Beer, Boston bars |