April 27th, 2011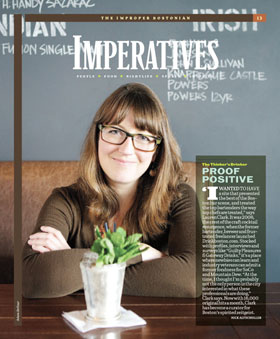 I'm tickled to be included in the annual "beloved bartenders" issue of the Improper Bostonian, which celebrates its 20th birthday this year. The profile refers to me as the "thinker's drinker" and a "curator for Boston's spirited zeitgeist." Finally, someone who loves me for my brains, not just my liver.
Managing Editor Nick Altschuller, who conducted the interview, was doing double duty that day — he suggested we meet for midday drinks as he was in the midst of research for his column about embarking on a one-man revival of the martini lunch. (Nice reference to the notebook, Nick.)
Among the bartenders profiled are two of my personal faves: Emma Hollander of Trina's Starlite Lounge and Evan Harrison of Deep Ellum. Congrats to them and all the other slingers who made this year's cut!
Let me also heap praise upon the photographer who took this pic, Adam DeTour.
Tags: Improper Bostonian
Posted in Bartenders, drinkboston in the news | 9 Comments »