March 1st, 2010
Event: Boston Bartenders on the Rise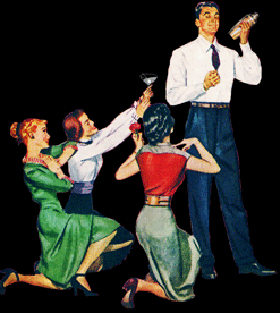 Join drinkboston and four of the Boston bar scene's rising talents at a cocktail party at Green Street on Sunday, March 14. Boston Bartenders on the Rise will showcase some of the men and women around town who are making a name for themselves with a combination of drink-mixing prowess, hospitality and character.
Each bartender will mix a favorite cocktail and spend some time mingling with the crowd, talking cocktails, spirits, bartending and matters of similar importance. Bios and recipes below. Call Green Street today to make your reservation. Here's the lowdown:
Green Street, Sunday, March 14, 7:00 p.m.
Four cocktails, plus a special welcome punch
Passed appetizers
Tickets: $40
Reservations strongly suggested. Call 617-876-1655.
Carrie Cole of Craigie on Main started working in Boston restaurants when she moved to the Hub from Portland, Oregon, to attend Boston University. She started as a bartender, moved to cooking, became a pastry chef, then returned to the bar. After a stint at Sibling Rivalry, she was scooped up by Craigie on Main, where she is now senior bartender. Her cocktail is the Loose Translation: Scorpion Mezcal, Aperol, Mathilde XO Orange Cognac, pineapple syrup, lime juice, Allspice Dram and Angostura orange bitters. Rocks, splash of ginger.
Evan Harrison of Deep Ellum hails from Sherman, Texas. While studying literature and philosophy at UMASS, he began learning classic cocktails and craft beer as principle bartender at the Independent in Somerville. Late last year, he crossed the river to join the staff at the cocktail/beer bar Deep Ellum in Allston. His cocktail is the Peralta: Old Overholt Rye, Cynar, green Chartreuse, fresh grapefruit juice. Straight up.
Bob McCoy of Eastern Standard grew up in Middleton and started cooking in his uncle's Malden restaurant when he was in high school. In college, he spent summers tending bar on Block Island, then moved to the Wild Horse Cafe in Beverly. After six years there, Bob was "looking for another opportunity, one that would take my profession to another level, and found it at Eastern Standard." His cocktail is the Saving Daylight: Plymouth Gin, homemade "golden" vermouth, St. Germain Elderflower Liqueur, Cointreau and homemade bitters. Straight up.
Emily Stanley of Green Street entered the industry as soon as she turned 18 and left her hometown of Westford to study briefly at Suffolk University. She worked at Fire and Ice, Bukowski Tavern in Cambridge, Deep Ellum and Trina's Starlite Lounge before nabbing her current position as bar manager of Green Street. Along the way, she went to school for esthetics and to be a personal trainer. Her cocktail is the William of Orange: Bols Genever, Benedictine, Punt E Mes, Aperol, orange bitters. Straight up, orange oil.
Appetizers include tuna tartare on tostones, Swedish meatballs and house-made charcuterie among other delights. This is gonna be fun. I'll publish the full recipes after the event. Hope to see you there!
Permalink | Filed under Bartenders, Cocktails, Events | Tags: Bob McCoy, Carrie Cole, Emily Stanley, Evan Harrison, Green Street