July 7th, 2010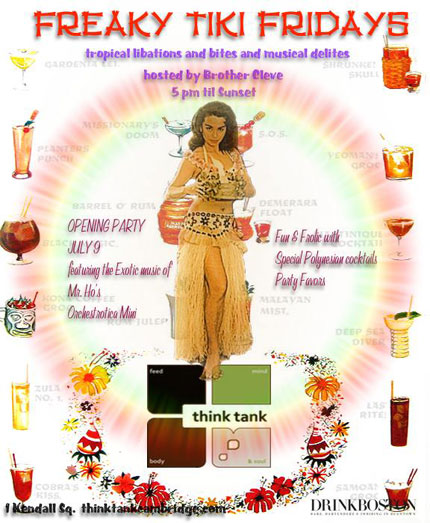 On a steamy summer Friday afternoon, who doesn't dream of heading straight from the office to a magical oasis of exotica music and tropical drinks? Well, pinch yourself, 'cause this is no dream: Beginning July 9, Brother Cleve, Boston's oracle of tiki, will host Freaky Tiki Fridays at the new Cambridge "bistro-theque" Think Tank (1 Kendall Sq., Bldg. 300) from 5:00-9:00 p.m.
At this week's special kickoff event, says Cleve, "our old pal Mr. Ho will be bringing the condensed version of his Orchestrotica — we can't really fit all 22 members of the full ensemble, so we'll take the quartet — for a set of exotic sounds in the style of '50s Hawaiiana like Martin Denny and Les Baxter." [NOTE: Mr. Ho's Orchestrotica unfortunately won't be appearing, but the tiki party's still on!) Of course, when live music isn't on the bill, Cleve will spin his own vast collection of tunes to sway your grass skirt to. Meanwhile, Think Tank owner Vincent Conte has sprinkled his cocktail menu with a few mixtures that hark back to his days as bar manager of the South End's departed Pho Republique, and each Freaky Tiki Friday will feature a drink or two from Beachbum Berry's terrific books, which put tiki drinks back on the map of legit drinking. Soak up the rum with Think Tank's 5-for-$5 pan-Asian appetizers that will make you "feel like you've gone to the Kowloon, but without the indigestion," says Cleve. See you there!
» Congrats to Todd Maul of Clio for being named best bartender in the Improper Bostonian's annual Best of Boston list, out on newsstands now. Maul elevated the cocktail program to the level of the cuisine for which this restaurant is famed  — and he did it with a sense of humor, e.g. a list of tiki-inspired "drinks for two … 2 straws, 1 bowl." While we're on the subject of fine-dining bars, here's a shout-out to Carrie Cole of Craigie on Main. She and her mixology crew have made the cocktail program established by Tom Schlesinger-Guidelli continue to kick ass. Check out this Public Radio Kitchen interview with her, and then go have a Bird Bath.
» If you're fairly new to Massachusetts, you've probably had this rude awakening: you're out for brunch at 11:03 a.m. on Sunday and order a Bloody Mary, only to be told you have to wait until noon. Thank god that foolishness is over. Last week, the state made it legal to buy a drink on Sunday morning. I mean, with Boston-area bars closing at 1:00 or 2:00 a.m., you're plenty well rested to start drinking bright and early the next morning.
» There's nothing like finding your niche. Local cocktail enthusiast and California native Devin Hahn blogs about a single cocktail — the Periodista — at the Periodista Tales. So far, his posts constitute one man's entertaining and well-researched quest for why this rum-based drink, which means "journalist," is something of a fixture in Boston while being unknown in virtually every other city he has visited.
» A few good reasons to stay out late on a school night this month: the Franklin Southie continues its Thursday Industry Night series on July 15 at 9:00 p.m. with a $6 cocktail menu featuring quality Luxardo spirits (e.g. Amaretto, Maraschino, Espresso, Fernet, Amaro Abano, Sambuca, Bitter, Sangue Morlacco, Triplum and Limoncello). And Emily Stanley, who traded in her bar towel for a new career as a brand ambassador for the malty Dutch gin Bols Genever, will host two events: a Bols Genever dinner at Aquitaine ($65) on July 19 featuring four cocktails by the talented Matt Coughlin, and a punch party at Highland Kitchen on the 26th starting at 10:00 and featuring $4-$6 punches and cocktails. See you there!
» Here's something you might like: drinkboston's Facebook fan page.
Tags: Aquitaine, Bols Genever, Brother Cleve, Carrie Cole, Clio, Craigie on Main, exotica, Franklin Southie, Highland Kitchen, Improper Bostonian, Luxardo, Massachusetts liquor laws, Matt Coughlin, Orchestrotica, Think Tank, tiki, Todd Maul
Posted in Events, Nips | 9 Comments »