March 7th, 2011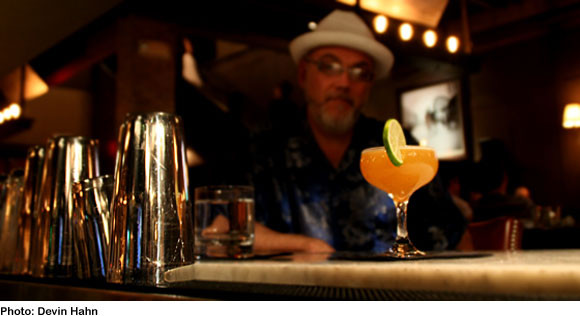 Hey, cats and kittens, something very cool launches TONIGHT at Think Tank in Kendall Square: Drink This! With Brother Cleve, the godfather of the Boston cocktail world. Join drinkboston, Classic Mixology and the Boston Shaker at 8:00 p.m. for Lundi Gras cocktails as we kick off "a new event series that will put me back behind the bar for the first time since 2001," says Cleve. Here's his write-up about the series:
"I'll be featuring a different set of classic cocktails and new libations of my own creation every Monday, plus selecting the musical soundtrack to pair it with. We'll be featuring appetizer specials and drink/food pairings from the kitchen, and I'll hold a little seminar to explain the history of the drinks and assorted cocktail lore. As many of you know, I've been studying this stuff for a long time, and we now live in amazing times for spirits drinkers, with so many formerly "lost" liquors, bitters, syrups etc available again for the first time in decades. When Combustible Edison first hit the road in '94, in search of the "Cocktail Nation," you were lucky if you could get a decent Martini anywhere. Now, great cocktails are ubiquitous around the globe!

"Our launch date, March 7, coincides with Carnival — Lundi Gras is the Monday before Mardi Gras in New Orleans, so in honor of the occasion we'll hold a pre-Lenten bash with Cleve's Ninth Ward cocktail (a "best of show" libation at Tales Of the Cocktail in 2008, now served in select bars around the country), the Ward Eight, Boston's best known drink and the inspiration for the Ninth Ward, as well as the Sazerac, the venerable favorite that has been designated the Official Cocktail of the City of New Orleans. There will be a soundtrack of classic New Orleans R&B, funk and jazz for your imbibing pleasure.

Cleve brings his knowledge and passion for mixology to these weekly seminars, in which he'll share classic as well as "lost" recipes from his vast bartending library (collected over the past 25 years) along with new concoctions of his own creation. Each week will showcase a different theme or spirit, and will also feature music and videos culled from Cleve's personal collection. Special menu items from the kitchen will also be available, and certain evenings will highlight food/cocktail pairings."
No cover, no reservations, just show up. See you there!
Tags: Brother Cleve, cocktail history, Monday, seminar, Think Tank
Posted in Cocktails, Events, New Orleans | 7 Comments »