November 23rd, 2010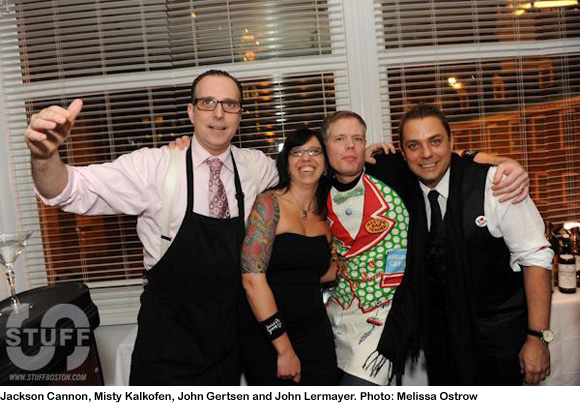 As my friend Senator John aptly tweeted during the grand finale of the year-long Cocktail Wars at Woodward Tavern in the Ames Hotel, "If you dropped a bomb on the Ames Hotel, we'd be drinking light beer and screwdrivers for months."
Arguably Boston's three best bartenders — Jackson Cannon of Eastern Standard and John Gertsen and Misty Kalkofen of Drink — competed against each other and Miami's finest, John Lermayer, in a showdown that capped a series of drink-mixing battles between Boston bartenders (and sometimes their colleagues from other cities). And there to cheer the competitors on was seemingly every other bartender of note who wasn't on the stick that night. Thankfully, no bombs were dropped. Except for this one: the guy from Miami won.
That's right, John Lermayer, who tends bar at the Florida Room and consults for hotel bars around the world, bested his Beantown colleagues fair and square. I should know, because I was one of the judges. His winning cocktail, the Misty Morning Sour (see below), hit all the criteria admirably: quality, creativity, presentation and use of surprise ingredients — persimmon and Barenjager honey liqueur. Misty Kalkofen took second place for her mezcal-based Per Simon. In the quality department, all the cocktails got high marks on my ledger — particularly considering they were each created in an astonishing 20 minutes.
Here are some pics from the bash, plus the recipes that each of the four competitors came up with. What a pleasure it was to literally drink in their talents.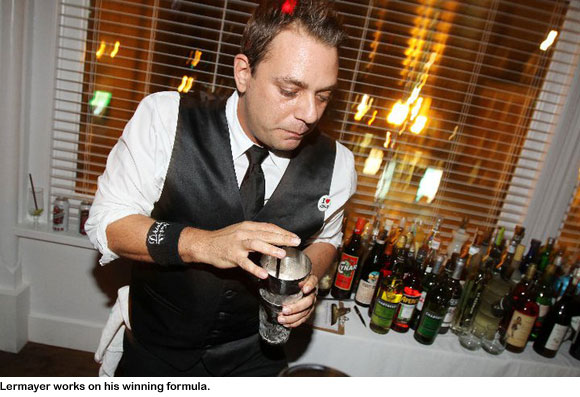 Misty Morning Sour
John Lermayer
Persimmon (a couple slices)
Strawberry (one or two)
1 1/2 oz Plymouth gin
3/4 oz Aperol
3/4 oz Barenjager
3/4 oz lemon juice
1/4 oz simple syrup
2 drops orange blossom water
Egg white
Muddle persimmon and strawberry in a mixing glass. Add remaining ingredients and dry-shake. Shake all again well over ice. Strain into cocktail glass with sliced strawberry and persimmon garnish. The name: inspired by how John imagined his fellow contestant, Misty, would feel the next morning.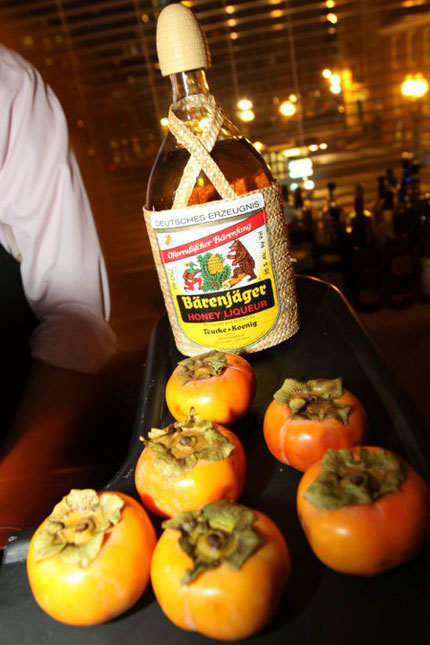 Per Simon
Misty Kalkofen
Half a persimmon
2 oz Del Maguey Mezcal Vida
1/2 oz Plymouth sloe gin
1/2 oz Barenjager
1/2 oz lemon juice
1/2 oz agave nectar
1/2 oz Amontillado sherry
6 drops Bittermens grapefruit bitters
Nutmeg garnish
Muddle persimmon in a mixing glass. Add all other ingredients except nutmeg and shake well over ice. Strain into a cocktail glass and garnish with fresh grated nutmeg. The name: a play on one of the surprise ingredients and on the name of one of the judges, Simon Ford, international ambassador for Plymouth gin.
Once in a Blue Persim-moon
Jackson Cannon
Persimmon (couple slices)
1 1/2 oz Barenjager
1 oz Plymouth gin
1/2 oz lemon juice
1 egg white
Dash Peychaud's bitters
Sparkling wine
Dry-shake first four ingredients and strain through a tea strainer. Dry-shake strained ingredients with egg white. Shake all again with ice. Strain into a champagne flute, top with Peychaud's and sparkling wine. The name: inspired by the blue moon in the sky that evening.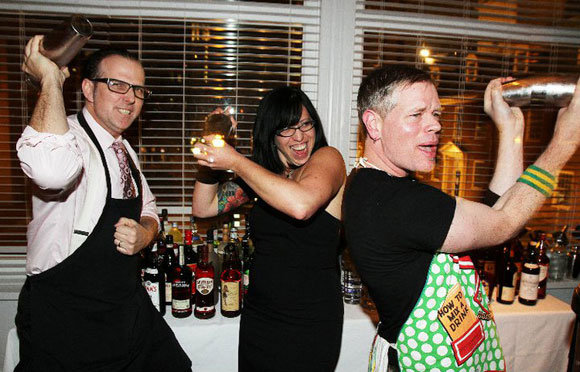 Wasp Bite
John Gertsen
2 oz persimmon infused* Plymouth gin
1/2 oz lemon juice
1/2 oz Barenjager
1 tsp black pepper
Barenjager soaked persimmon skin "twist"
Muddle pepper in mixing glass. Add all ingredients except twist. Add ice, shake and double strain into a chilled coupe. Garnish with the twist. The name: a play on Drink's peppery Bee Sting, which is itself a play on the classic Bee's Knees.
*The Plymouth Gin was infused using a quick infusion technique known as nitrogen cavitation. Gertsen used a 1 liter iSi profi whip canister, added 375 ml of Plymouth Gin and the pulp from 4 medium-sized persimmons, and charged the canister twice with nitrogen.
Except for top photo, all photos by Mark Andrew Deley of Crammed Media.
Tags: Ames Hotel, Barenjager, cocktail contest, Jackson Cannon, john gertsen, John Lermayer, Misty Kalkofen, persimmon, Woodward Tavern
Posted in Bartenders, Cocktails, Events, Liqueur | No Comments »