June 13th, 2010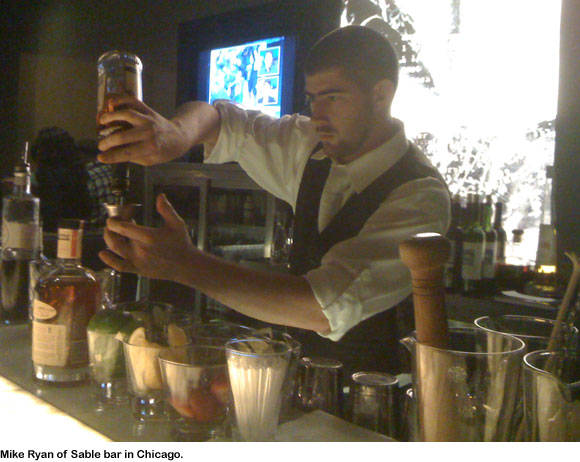 I couldn't resist spending a night in Chicago for a taste of the bar scene before continuing on to Kentucky for my first excursion on the bourbon trail. I hit up a storied tavern and two craft cocktail bars. It was a fine whistle-whetting that only left me thirsting for more.
Billy Goat Tavern. Why I had never been informed of this place I have no idea. I was beckoned here by a large "Billy Goat Tavern" sign on a Michigan Ave. overpass, then another that said "Cheezborger, cheezborger, cheezborger" and something about this being the birthplace of the 1970s Saturday Night Live skit that also brought us the catchphrase, "No Coke, Pepsi." The dark doorway looked a bit sketchy, but I bet that there was a gem awaiting me on the inside, and I was right. The tavern moved to its current location in 1964 and appears not to have changed since. One side of the room is a diner, the other side a bar. A formica bar. With Schlitz on tap. And a bartender who has worked there for a really long time. He told me about how the tavern became a shrine to the Cubs, and how it was a hangout for hard-drinking newspapermen back when there was such a thing. Luckily, no one seemed to think it was an abomination when I set my laptop on the bar to get a bit of work done. In fact, the regular sitting next to me said in a tone of pleasant surprise, "They have wi-fi here?"
Sable Kitchen & Bar. New, sleek spot next to the Palomar Hotel with a futuristic glowing service bar and LCD screen playing a roaring fire. Mike Ryan, formerly of the Violet Hour, was tending bar that night. With an understated, gentlemanly manner, a sweet smile and a tattoo of bacon strips on his forearm, Ryan mixed a strong Ti Punch (La Favorite rhum agricole, cane syrup, limes) and then poured a flight of unusual and tasty whiskies, including Templeton rye from Iowa, Amrut single malt "scotch" from India and a "white dog" (unaged whiskey) made from spelt at Chicago's Koval distillery. Sable boasts some superlative bar snacks, including BLT sliders where the B is (pork) belly.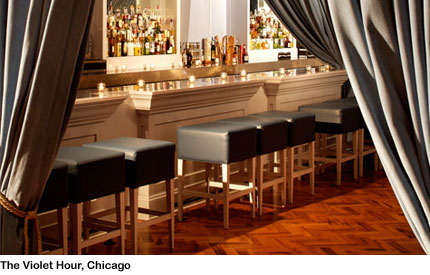 Violet Hour. You take a cab a little way out of downtown, past what's left of the infamous Cabrini-Green housing project, and look for an unmarked door on North Damen Ave. Wow, is this a romantic spot. Even if great classic and classic-inspired cocktails could not be found here, it would be worth spending an evening swathed in the dusty-violet aura of this sort of Gilded Age parlor gone minimalist. It gets its name and concept from the oft-quoted-in-cocktail-circles The Hour by Bernard DeVoto (which, coincidentally, has just been re-published): "This is the violet hour, the hour of hush and wonder, when the affections glow again and valor is reborn, when the shadows deepen magically along the edge of the forest and we believe that, if we watch carefully, at any moment we may see the unicorn."
After my delicious Hush and Wonder (Methusalem rum, creme de violette, fresh lime, grapefruit bitters), I saw no unicorns, but I did see a night in my future when I'd return to Chi-Town for some more quality drinking.
Tags: Billy Goat Tavern, Sable Kitchen & Bar, Violet Hour
Posted in Chicago, Rum, Whiskey | No Comments »