June 15th, 2006
Jackson Cannon, Eastern Standard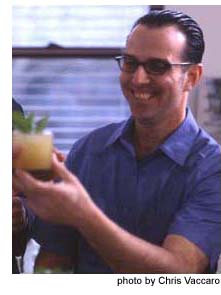 Bartender Profile
This is what kind of bartender Jackson Cannon is: As we were leaving Eastern Standard after having dinner at the bar last New Year's Eve, Jackson asked, "Are you going to another bar or to a party?" "Another bar," we answered. "Would you like me to call ahead and see if there's room for you?" We chuckled nervously in response, because we didn't think he was serious. But he was. We felt like Myrna Loy and William Powell. Call ahead to announce our arrival at another bar? That's the kind of old-school service everybody assumed was extinct, but guys like Jackson are intent on reviving it. (For the record, no phone call was necessary, since we were heading over to Bukowski Tavern's traditionally uncrowded "Fuck New Year's" Party.)
And that's only one of the perks of sitting at Jackson's bar. If you ask him about the ingredients of a cocktail he's mixing for you, you'll get the complete story of that particular libation and its history of usage in drinks — all by the time he has emptied the contents of the shaker into your cocktail glass. He provides these details without being nerdy or overbearing; it's just another part of his job, like slicing limes or uncorking wine bottles. Perhaps the best thing about Jackson is that he's not just a one-man show, but the leader of a highly competent team of barmen and women. You can consistently get a great drink and great service from any of the ES bartenders. That's a wonderful thing.
Hometown
Born in California, grew up outside Washington D.C.
First drink you ever had
We used to get thimbles of beer in our high chair when I was growing up.
Favorite Boston bar other than your own
B-Side Lounge.
The drink you most like to make
Sazerac.
The drink you least like to make
Called-for vodka with soda, splash of Sprite and cran, garnished with a lemon and a lime!
What you drink at the end of your shift
Ice cold beer and a shot of Fernet.
If you weren't a bartender, you'd be…
A musician.
A bartender's best friend is…
A strong back.
A bartender's worst enemy is…
A bad manager.
People drink too much…
Vodka.
People don't drink enough…
Vermouth.
Drink for a hot summer day
Whiskey Smash.
Drink for a cold winter night
Washington Style Toddy.
The best thing about drinking in Boston is…
The emerging identity of local craft bartending.
The worst thing about drinking in Boston is…
Early closing times.
Permalink | Filed under Bartenders |