April 6th, 2009
They turned me into a Zombie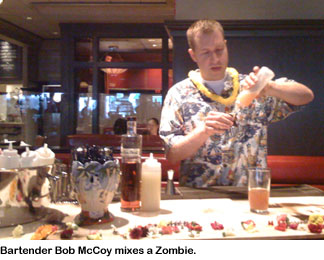 It's always interesting when you have evening plans to start drinking Zombies at 2:00 in the afternoon. Yes, Zombie Punch, resurrected from a 1934 recipe once thought to be as swept away by the sands of time as Donn Beach's original Beachcomber bar in Hollywood, was the first drink served at the Taste of Tiki party at Eastern Standard on Saturday. This is a remarkably delicious and potent drink containing a full four ounces of rum, one ounce being 151 proof!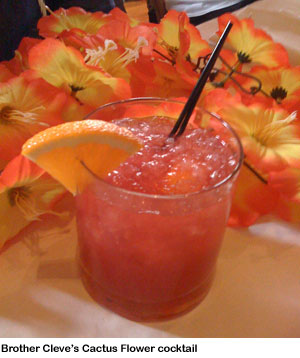 The other drinks on the menu were the exotic Cactus Flower, created by Brother Cleve for last year's Tales of the Cocktail tiki block party, and another original, the Flying Dutchman, created by Eastern Standard bartender and tiki enthusiast Bob McCoy. (Oh, and let's not forget about the welcome tipple, Trader Vic's punch.) Cleve and McCoy took turns speaking to the 50+ guests about the origins of the tiki phenomenon, and the cocktails, music and sometimes fabulous but often kitschy restaurants that were part of it.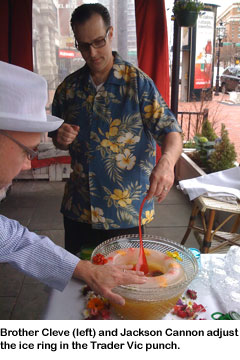 Luckily, there were egg rolls, coconut fried shrimp, roast pig and beignets to soak up some of that hooch. Many thanks to McCoy, Jackson Cannon, Molly Hopper and the rest of the Eastern Standard staff for putting together a terrific party. Thanks also to Mike Sullivan (aka Bargoyle) of the New England chapter of the Fraternal Order of the Moai for co-promoting this shindig with drinkboston. (Check out this group's plans for a weekend-long tiki bash in Lake George, NY.) And a special thanks to Lorna Wilkerson, a Boston cocktail enthusiast who thought up the whole idea of having a tiki party at Eastern Standard in the first place.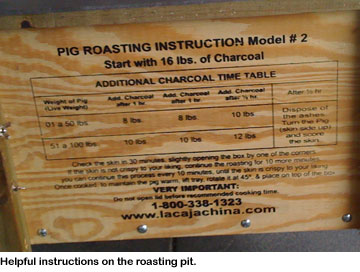 The Zombie Punch (1934)
By Donn Beach
1 ½ oz. Appleton Estate V/X Rum
1 ½ oz. Bacardi Gold Rum
1 oz. 151 Lemon Heart Demerara Rum
¾ oz. lime juice
½ oz. Donn's Mix (2 parts grapefruit juice to 1 part cinnamon syrup)
½ oz. falernum
1 bar spoon grenadine
6 drops Pernod
Dash Angostura bitters
Build in a mixing glass and dry shake. Pour in a chimney (tall) glass filled with crushed ice and stir. Add more crushed ice to fill and garnish with a mint sprig.
The Cactus Flower
By Brother Cleve
1 ½ oz. Cruzan Single Barrel Estate Rum
1 oz. Cruzan Estate Light Rum
¼ oz. Cruzan Estate Blackstrap Rum
½ oz. Bols Orange Curacao
1 oz. prickly pear puree
1 oz. orange juice
1 oz. pineapple juice
¾ oz. lime juice
½ oz. simple syrup
2 dashes Angostura bitters
1 oz. club soda
Build in a mixing glass and dry shake. Pour into a double old fashioned glass filled with crushed ice, add club soda, and stir. Garnish with an orange slice.
The Flying Dutchman
By Bob McCoy
1 oz. citrus- and spice-infused Batavia Arrack*
¾ oz. St. Elizabeth's Allspice Dram
¾ oz. crème de cacao
½ oz. pineapple juice
Dash Elemakule Tiki Bitters
Build in a mixing glass, add ice, and shake. Strain into a chilled lowball glass, no garnish. *For the infusion: Combine the peels of 20 lemons and 5 oranges with 1 1/2 liters of Batavia Arrack in a glass jar. Toast 20 cloves, 10 green peppercorns, and 5 cardamom pods over medium/high heat, tossing frequently until the aromas are released. Add to the jar, cover, and infuse for 14-19 days.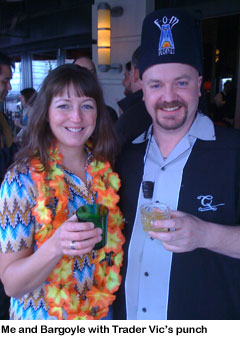 Permalink | Filed under Cocktails, Events, Rum | Tags: Cactus Flower, eastern standard, Flying Dutchman, tiki party, Zombie