January 25th, 2010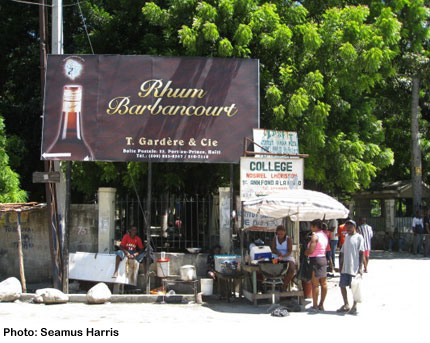 » HAITI. Like a lot of people responding to the needs of disaster-striken Haiti, I've been texting donations to the Red Cross, over-tipping Creole-speaking cab drivers, and ordering Haitian rum (or rhum) at bars. Recently, Drink joined several bars across the country in fundraising for Haiti by creating a menu of drinks using quality rhums agricoles and donating some of the proceeds to Doctors Without Borders. If you're near Fort Point this week, pop by and raise a glass to an urgent cause.
» BENEDICTINE. Congrats to Jackson Cannon of Eastern Standard for being one of five finalists from around the country in Benedictine Liqueur's  "Alchemists of Our Age" cocktail contest. The contest, which marked the 500th anniversary of the French herbal elixir, announced its winner earlier this month: Damon Dyer of Louis 649 in New York City. The finalists, along with their cocktails, are featured in the January 2010 issue of Esquire. Check out Boston Herald writer Julia Rappaport's blog post about Boston bartenders and Benedictine, and Dyer's and Cannon's recipes below.
Monte Cassino
Damon Dyer
3/4 part Benedictine Liqueur
3/4 part yellow Chartreuse
3/4 part fresh lemon juice
3/4 part Rittenhouse Rye
Shake, fine-strain into a chilled coupe (or small cocktail glass).  Lemon twist garnish.
Vincelli Fizz
Jackson Cannon
1 egg white
1 1/2 part Benedictine Liqueur
1 1/2 part house-made rose vermouth
1/2 part fresh squeezed lemon juice
Dry-shake above ingredients to emulsify. Add ice and shake again until well chilled. Pour into a coupe glass. Top with 1 ounce Champagne. Garnish with flamed madjool date essence. Proportions to be adjusted as needed for variations in vermouth and citrus.
» IRISH WHISKEY. My friend Lew Bryson, a beer and spirits writer based in PA, recently called to pick my brain about Irish whiskey. We both admitted being confounded over the assertion (made by Spirit Journal editor Paul Pacult, among others) that Irish is the fastest-growing spirits category in the U.S. That's because neither of us are noticing it being downed in greater-than-usual quantity, at least not in the places we drink. How is all this whiskey being consumed, we asked? As shots alongside a Guinness (my fave method)? On the rocks, like Scotch? In cocktails? We guessed one of the first two, since there just aren't a lot of cocktails containing Irish whiskey.
I addressed that dearth recently when I brought my brother to Drink for his birthday and introduced him to the fabulous Red Breast, pot-still Irish whiskey. Misty Kalkofen gamely created a cocktail with the stuff, which was delicious and needs a name: 2 1/4 oz Red Breast Irish whiskey, 1/4 oz Punt e Mes, 1/4 oz green Chartreuse, stirred well over ice and strained into a chilled rocks glass.
» ULTIMATE BEVERAGE CHALLENGE. Speaking of Paul Pacult, he is leading the launch of the Ultimate Spirits Challenge, a judging event that aims to evaluate spirits with the "most authoritative, accurate and consistent results." Part of the overall Ultimate Beverage Challenge, the first-ever spirits challenge takes place March 1-3 at Astor Center in New York City, followed by the Ultimate Cocktail Challenge in April. Check it out.
» SCOFFLAW. Did you know that January 16 was the anniversary of the official coining of the term "scofflaw," for which the Scofflaw cocktail is named? And that the word came about as the result of a contest held by the Boston Herald in 1923? I didn't either! It was one of those "I can't believe I didn't freakin' know about this" revelations.
"The Scofflaw drink followed the coining of the actual term by less than two weeks," writes Ted Haigh in Vintage Spirits and Forgotten Cocktails. "Another invention of Harry's New York Bar in Paris, the cocktail hilariously baited Prohibition sensibilities." Read more about it in the intro to Robert "DrinkBoy" Hess' video about the Scofflaw. And thanks to Paul Harrington for being perhaps the first modern drinks writer to mention the history of the word and the cocktail.
» BOSTON DRINKING SOCIALS. Finally, this just in from Stuff Boston: Great Minds Drink Alike: Local booze crews give the term "social drinking" a whole new meaning.
Tags: Benedictine, Boston clubs, Haiti, Irish whiskey, Paul Pacult, rhum agricole, Scofflaw, Ultimate Beverage Challenge
Posted in Books & resources, Cocktails, Liqueur, Nips, Rum, Whiskey | 17 Comments »