June 23rd, 2007
How to stock a tiki bar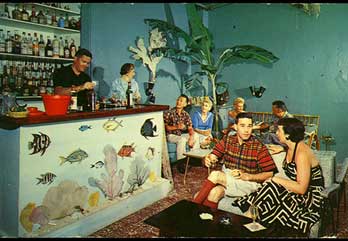 I saw Brother Cleve at Devlin's in Brighton recently (he was playing with his band, Dragonfly) and mentioned casually that I was getting curious about tiki drinks. Like, what do you have to have on hand to mix them up at home? A couple days later, I got an email from Cleve with a long list of rums, juices and other ingredients, plus opinionated commentary on the do's and don'ts of stocking your own tiki bar. It's valuable advice, and I just had to share it. Warning: with what it'll cost to buy all the ingredients below, you might as well shop around for a liquor license and open a bar.
How to Stock a Tiki Bar — by Brother Cleve
Well, you may hate me for this — cuz it's not cheap to do your initial setup — but here's a standard list of what you'd need to be able to flip open a Trader Vic's guide and make a Polynesian drink. A lot of the mixers are available at Martignetti's on Soldiers Field Rd., including Fee Brothers Falernum and also an alcoholic Falernum as well. Orgeat is best bought at an Italian shop like Capone's, which has the real deal made without corn syrup (just like Mexican Coca Cola!). Good sources of odd rums include Wine & Cheese Cask, Downtown Wine & Spirits, Martignetti's, Beacon Hill Wine, Atlas in Medford.
falernum
orgeat/orzata
grenadine (not Rose's; pomegranate syrup from Middle Eastern groceries can work)
passion fruit syrup (difficult to find; available via mail-order from Trader Vic's)
rock candy syrup (see above)
orange curaçao (Bols is best, followed by Marie Brizzard)
simple syrup
Angostura bitters
Pernod
Meyer's dark (jamaica)
Meyer's white – plantation style (jamaica)
Meyer's Legend
Lemon Hart Demerara 84 proof (Guyana. There is a Jamaican lemon hart but very difficult to find)
Lemon Hart Demerara 151 proof
Rogue white rum (Oregon)
Clement rhum agricole (Martinique)
Cruzan 2 yr. old (St. Croix)
Mt. Gay Eclipse gold (Barbados)
Brugal gold (Dominican Republic)
Barbancourt, 3 or 5 star (Haiti)
Wray & Nephew Overproof (Jamaica)
Trader Vic's brand white and gold
Pusser's Navy rum (B.V.I.)
orange juice
pineapple juice
passion fruit juice
lime juice
grapefruit juice
coconut cream
When buying juices, go for the single variety rather than the blends. Goya brands are always a good bet. Beware many of the "tropical blends" such as V8 brand, as they contain carrot juice as well, which tends to curdle with rum.
Try to find orgeat without corn syrup. (Unfortunately, Fee Bros. brand has corn syrup in it.)
Some Polynesian cocktails also call for gin, brandy or scotch.
I find Bacardi pretty bland, but some of the other Puerto Rican rums are … well, they're bland too, but they're less than mainstream bland (such as Ron Rico). If you stumble across Ron de Barrilito, buy it.
Rums from the French West Indies are "agricole" or "agricultural" rum, made from sugar cane juice as opposed to molasses like all other rums. Tough to find here, although Clement and J.M are slowly appearing. A very different taste. Not essential for tiki drinks, but good to have on hand, and they do blend nicely with fruit juice.
Cane sugar syrup is good to have as well; not that easy to find here, but you can make it from brown sugar and water.
That'd make a good start!
(Um, thanks, Cleve. I think.)
Permalink | Filed under Cocktails, Drinking supplies, Rum |