November 13th, 2008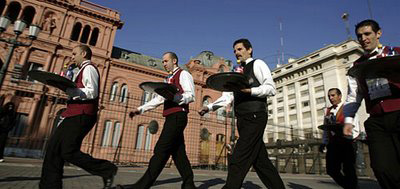 A reader named Daniel emailed me recently asking what I knew of recent "bartender movement" around Boston, including what has become of the crew at the B-Side. Timely question, Daniel, because Boston drink-slingers are engaged in a lively round of musical bars right now.
Let's start with the crew at the B-Side, which, it turns out, will not be opening again under new ownership as I wrote earlier. The lounge on the corner of Hampshire and Windsor in Cambridge is officially in limbo. Sad. From what I've heard, among the principal bartenders left standing when the place closed, Dave Cagle is heading to Deep Ellum, Al Harding is at the new-and-improved Cafe Marliave (along with ex-B-Siders Jackie Ross and Christopher Duggan, who's also occasionally at the Indo), Russ is at the Beehive, and Rob … I totally forget where Rob's going (update forthcoming). While I'm on the subject, the B-Side's swan song, last Sunday, was an evening of fun insanity, with customers doing their damnedest to drain the place of every last ounce of liquor, and most of the above B-Side alums — plus Joe McGuirk and Claudia Mastrobuono, both now at Highland Kitchen — stepping behind the bar to help out.
As for the other bars with personnel in flux … Misty Kalkofen is moving from Green Street to Drink. That means Drink will now boast a ridiculous roster of talent including Kalkofen, John Gertsen, Ben Sandrof and Josey Packard, among others. Meanwhile, as Daniel informed me, Green Street has lured Emily of Deep Ellum across the river. She joins Andy McNees (formerly of Bukowski and Eastern Standard) and Bice (formerly of B-Side, Deep Ellum, etc.). Tom Schlesinger-Guidelli, who earned renown at Eastern Standard, is now boss of the bar at chef Tony Maws' new place, Craigie on Main, which is scheduled to open this Friday.
I know I'm missing a few other significant moves, here. I'll post updates when I get them, along with reviews of Boston's new star bars Drink, Cafe Marliave and Craigie on Main. In the meantime, best of luck to all you 'tenders in your new gigs.
Tags: bartender movement, new Boston bars
Posted in Bartenders, Boston bars | 14 Comments »