December 5th, 2008
My head hurts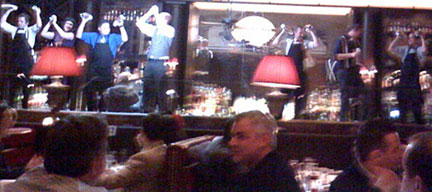 When you get past the utter crappiness of this photo I took last night, and you look closely, you'll notice seven bartenders standing atop the bar at Eastern Standard (there were eight, actually — Jackson Cannon was out of frame). This is one of the cooler things I've seen in a bar.
The bartenders are shaking Pisco Sours for the 100 or so guests who attended a six-course, six-cocktail dinner and all-night speakeasy to celebrate the 75th anniversary of the repeal of Prohibition. What more authentic way to mark this day than by drinking cocktails of the era — an Ampersand, a Waldorf-Astoria Perfect Martini, a Charles Lindbergh, a Blood & Sand, a Scofflaw and a Pisco Sour — and being thankful the next day for our constitutional right to give ourselves ripping hangovers?
The moment that felt most 1920s to me? Eating a course consisting of caviar on rye toast, scrambled eggs with white truffle, and deviled egg paired with that martini I mentioned: Beefeater, Martini & Rossi dry vermouth and Fee's orange bitters in a small cocktail glass with a large olive. Heaven.
I don't know how he did it, but Fred Yarm over at Cocktail Virgin Slut managed to post about the event in vivid detail well before noon today.
Permalink | Filed under Cocktails, Events | Tags: 1920s, eastern standard, Repeal party