December 3rd, 2010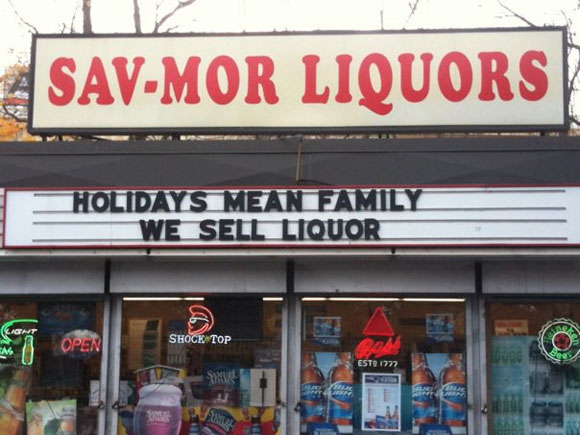 I think the sign says it all. What with the holiday season upon us, I've been hoarding a recycled shopping bag full of nips for you, so let's get cracking.
» Repeal Day Ball. Well, it seems I have truly arrived. I am part of a Boston contingent being whisked down to Washington D.C. this Saturday for the third annual Repeal Day Ball at the Maison Biltmore, courtesy of the D.C. Craft Bartenders Guild and Macchu Pisco. This shindig started amid the hoopla over the 75th anniversary of Repeal in 2008 (which Eastern Standard celebrated in great style right here in Boston) and quickly became one of the Capitol's great parties. Jeffrey Morgenthaler (aka the Morgenblogger) of Portland, Oregon, MCs the affair, which features themed rooms manned by renowned innkeepers from the D.C. area and elsewhere. Sure, there'll be punch and Prohibition-era cocktails, but, frankly, I'm making a beeline for the 1980s room starring Dale "King Cocktail" DeGroff. Line up the Woo Woos, baby!
» Book of punch. Speaking of punch, David Wondrich was in town last month to promote his new book, Punch: The Delights and Dangers of the Flowing Bowl, at Drink. Delights and dangers were both in abundance, with nary a cocktail shaker in sight — just the gentle ladling of spirits, citrus, spice and sugar into little cups, over and over again. Oh my, that was fun. Read C. Fernsebner's and B.C. Burroughs' terrific interview with Wondrich in the Bostonist, with a longer version available on their blog, Dudekicker.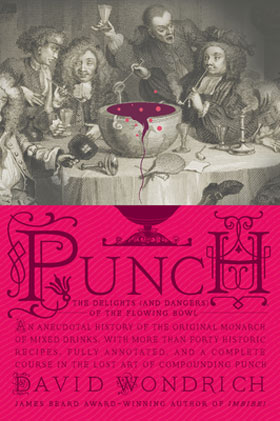 » High West. Also in town recently was David Perkins of the High West Distillery in Park City, Utah. A former biochemist who is part laconic scientist, part droll cowboy, Perkins hosted a tasting of his exotic whiskies at Trina's Starlite Lounge in late October. We tasted his Silver Western Oat Whiskey, an unaged whiskey made with 85 percent oats and 15 percent barley malt; Rendezvous Rye, a blend of straight rye whiskies (including a 16-year-old Fleischmann's — paging Man Men!); and Bourye, "the world's only bourbon and rye marriage." These whiskies are popping up in a few Boston bars — they're very much boutique offerings, with the price tag to match, but well worth a sip when you find them.
» Nolet's gin. I was introduced to Nolet's Silver gin recently at a cocktail dinner at Eastern Standard. Intriguing. This is one of those newfangled gins, albeit produced by the very old Nolet's distillery in Schiedam, Holland — best known in the U.S. for Ketel One vodka — where generations of the same family have been producing spirits since 1691. Its primary botanicals are Turkish rose, white peach and raspberry. If that trio makes you envision a cross between Hendrick's and Stoli Raz, stop yourself right there. The stuff is quite dry, as brightly aromatic and balanced as a really expensive perfume, and verrrrry smoooooth. In fact, one of our cocktails was simply Nolet's Silver in a heavy rocks glass over one very large ice cube. Quite nice, especially considering the stuff is 95.2 proof. This is an exclusive spirit, launching in only six states and costing $50 per bottle. We were also treated to a dram of the even rarer Nolet's Reserve, a lightly aged gin whose pale straw color comes from saffron (or should I spell that $affron?) and which is also flavored with verbena. It was ethereal — which it would need to be at $800 per bottle. Allemachtig!
» Banged-up bartenders. What a coincidence. The night before Robert Simonson's NYT article on the injuries related to craft bartending came out, I was at a gathering of female bartenders who launched into a conversation about their job-induced aches and pains. (Coincidence #2: one of those women is quoted in the article.) One woman wakes up with pain in her wrist, another is plagued by a sore shoulder. One's husband has to pry apart her clenched "shaker hands" as she sleeps. Another had the rest of us hold her wrist as she rotated it to reveal what felt like loose ball bearings. The main culprit was the constant, vigorous use of shakers, often with larger, denser ice than the norm, that is pretty much mandatory in craft cocktail mixing. Other culprits were similar to those mentioned in the article:
"Bartending has never been an easy job. But in the past, tired feet, an aching back and possibly a bent ear or two were the standard complaints. Today's nonstop bar-side ballets have caused the pains to creep northward to the wrist, elbow and shoulder.

"Most professionals deal in some repetitive motion or other; bartenders contend with several. They tilt heavy bottles into a shaker each night; they smack ice with the bowl of a bar spoon to get the size and shape just right; they unleash the suction of a shaker with the palm of their hand, jolting their wrist again and again."
Sheesh. Does anybody predict that punch is about to get a whole lot more popular?
Tags: bartending injury, David Wondrich, High West whiskey, Nolet's gin, Repeal Day
Posted in Books & resources, D.C., Gin, Nips, Punch, Whiskey | No Comments »