April 28th, 2009
Felten hearts Boston bartenders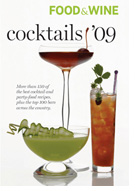 Eric Felten's last two drink columns for the Wall Street Journal have referred, directly and indirectly, to some of Boston's best bartenders. April 18's A Welcome Sign of Vodka's Decline describes a development for which I have been beating the drum for some time, and it singles out Misty Kalkofen's mezcal-based recipe for Food & Wine's Cocktails '09 — the Maximilian Affair — as "an instant classic." (Thanks to those readers who tipped me off about this article, and congrats to you, Misty.) Felten also mentions an original cocktail by Jackson Cannon, the Fernet-laced Heather in Queue, as an example of a gravitation toward bitters.
April 25's Women Behind Bars compares the male-only saloon culture that largely kept women employees out of bars until well after WWII with the prevalence of female bartenders in today's "culinary cocktail" scene. Felten begins by mentioning this year's James Beard Foundation culinary gala, whose theme is Women in Food. "More than a dozen prominent female bartenders will be mixing original drinks at the May 4 dinner in New York," he writes. Guess who will be among those "prominent female bartenders." Yep, Misty rides again, and she'll be accompanied by her Drink colleague Josey Packard. Have a blast, girls — can't wait to see the pics!
Misty Kalkofen (adapted by Eric Felten of the WSJ)
1 1/4 oz mezcal (preferably a smoky, single-village mezcal such as Del Maguey)
3/4 oz St. Germain elderflower liqueur
1/2 oz sweet vermouth (preferably Punt e Mes)
1/4 oz fresh lemon juice
Shake with ice and strain into a cocktail glass.
Heather in Queue
Jackson Cannon (invented at Eastern Standard)
1 1/2 oz gin
3/4 oz Martini and Rossi Bianco vermouth
1/2 oz Bauchant Orange Liqueur
1/4 oz Fernet-Branca
Stir well over ice and serve straight up. Garnish with flamed lemon twist. This cocktail is named for a regular Friday-night customer who was standing "in queue" when Jackson created this drink for her as a replacement for the Hoskins, "as I was running out of the then famous 164-bottle stash of Amer Picon that I picked from a dusty corner of the Martignetti warehouse."
Permalink | Filed under Booze in the news, Cocktails, Vodka | Tags: Eric Felten, Jackson Cannon, josey packard, Misty Kalkofen, women bartenders, WSJ