February 21st, 2009
Josey Packard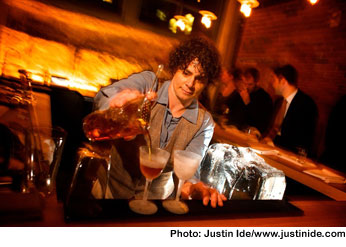 Bartender Profile
Josey Packard is among that distinct class of bartenders who have had musical careers, and who channel their passion and creativity into the kind of performing that goes on behind a great bar. Those who remember Packard from another era, as the riot grrrl fronting the acclaimed band Chelsea on Fire, may find it jarring to see her now, sporting her natural brown curls, wearing a gentleman's waistcoat, mixing Old Fashioneds. The contrast is part of her appeal.
When she decided to be a bartender, she skipped spring training and went right to the playoffs. While living in New York, she took the rigorous BAR (Beverage Alcohol Resource) course, then moved to San Francisco and landed a plum assignment at the Alembic Bar. That's where I first encountered her, cracking ice cubes with a bar spoon, surrounded by homemade bitters and syrups, and offering detailed recommendations of bourbon and rye.
Naturally, when she moved back to Boston last fall, she promptly nabbed a spot at the newly opened Drink. With her love for (and knowledge about) classic cocktails, Packard's most at home working the tri-sectioned bar's "1800s station," where she happily hacks away at a mammoth ice block in the process of making you a perfectly thought-out cocktail. Rest assured, there's nothing didactic about her. Rather, she is that perfectly Bostonian combination of seriousness and sharp humor, intensity and affability.
Hometown
Topeka, Kansas. My parents went to high school here in Boston, but due to an Air Force assignment I was born and raised in the Midwest. Its cachet is both useful and boring to me; today I'm gratified to call Boston my home.
Past bartending jobs
The Alembic, San Francisco.
Favorite bar in greater Boston other than your own
Before 2006, it was Anchovies. Now, I'd have to say Eastern Standard.
First drink you ever had
Irish Mist out of my parents' cabinet. I think I was nine. First drink I ever ordered at a bar? Amaretto Sour. I had no idea what it was, but somehow the name came out of my mouth.
____ is to the Boston bar scene as ____ is to the Boston music scene
St. Germain is to the Boston bar scene as canned drums are to the Boston music scene. Not traditional, potentially transcendental, and ripe for abuse.
The drink you most like to make
Old Fashioned. Made the same way since the turn of the (19th) century: who doesn't love a drink that was born right alongside our country?
A bartender's best friend is…
The 6-ounce cheater tin.
A bartender's worst enemy is…
A lack of humility.
What you drink at the end of your shift
Reading Lager. I hate lager (not enough flavor) but I love cold Reading Lager: go figure.
If you weren't a bartender, you'd be…
I am so f***ing proud to be a bartender. I am also a musician and an editor.
Dumbest thing you've heard in a bar
"I can't break the code" — meaning a guy can't order a drink that anyone else has stated is a woman's drink.
Most profound thing you've heard in a bar
Lady says: "While my friend's in the bathroom, I want a non-alcoholic drink that looks alcoholic because I just found out I'm pregnant." Then she goes to the bathroom, her friend waits until she's out of earshot, and then says exactly the same thing.
What you say at last call
This is one of those areas where the genius of John Gertsen is sublimely obvious. There is no last call, there's just a time after which drink-making stops but the party rolls on. I usually stand on the bartop with a bullhorn and a bottle of Captain, unbutton my shirt and pour a line of sloppy shots, set them on fire, then flash my tits: it's like a visual cue. John is such a great manager to let me do this.
The best thing about drinking in Boston
Being here. Smart people, self-deprecating humor, welcoming community, weather extremes, and the Ward 8 with its three full-on ounces of rye.
The worst thing about drinking in Boston
I gotta say it's the T stopping service at freaking 12:15 a.m. It's simply irresponsible of them.
Permalink | Filed under Bartenders | Tags: Drink, josey packard, musicians