September 8th, 2007
Vodka R.I.P., part 3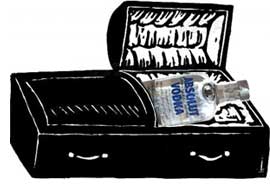 Man, I have really dropped the ball. It has been over a year since I dissed vodka. It's time, then, for part 3 of drinkboston's Vodka R.I.P. series. In part 1, I talk about how the ubiquity of this colorless, flavorless spirit has dumbed-down mixology. In part 2, I investigate how this state of affairs came to be. Here, I present evidence that knocks vodka down a few more pegs.
I know, I know. You're a bartender, and you're saying, "I have to keep my customers happy! Vodka's what they want to drink. If I put a bunch of gin and whiskey cocktails on my menu, people will freak. That stuff scares them."
Here's something that'll scare them even more, or at least kill their buzz:
"Achieving the 'purity' so essential to the spirit is almost impossible on an artisanal pot still. Making pure ethanol is what industrial stills do best, which is why two of the … major players producing vodka in the U.S. are Archer-Daniels-Midland and Grain Processing Corp. of Muscatine, Iowa. ADM sells its 190-proof beverage alcohol (product code 020001) packaged one of three ways: 'Bulk Truck, Bulk Rail, Tank.' Cut it with water … bottle it, and you're in the vodka business," writes Eric Felten in the Wall Street Journal ("Make Mine a 020001," 9/1/07).
Bulk Truck! That's going to be the name of my new premium vodka. Does it get any more obvious that the path from America's largest agricultural processor to a $40 bottle of Grey Goose is paved with marketing wiles and consumer gullibility? Bartenders, if a vodka-drinking customer remains unfazed by this fact and says, 'Who cares? I like the smooth taste of Brand X,' you might run another Felten tidbit by him:
"I went to a vodka tasting hosted by the head of a prominent luxury liquor house. After being walked through the vodkas on the table with elaborate descriptions of the characteristics of each, I found myself hard-pressed to discern much difference. So I asked the executive to demonstrate the differences by tasting the vodkas blind. He couldn't even identify his own flagship brand."
I'm not saying that some gins, rums, tequilas and other big-name "premium" spirits aren't produced in industrial quantities. But they aren't as dependent as vodka on high-falutin' claims of purity and sophistication. They have distinguishable flavors that come from their base ingredient, i.e. sugar cane or agave, or from botanicals like juniper, or from barrel aging. Vodka doesn't. Claims of purity and sophistication are all it has. And now that the vodka market is so crowded, marketers are trying to set their products apart by, for example, touting earth-friendly distillation methods and packaging (360 Vodka) or organic ingredients (Square One Organic Vodka).
One way that vodka makers have been trying to wring money out of the category for years now is through flavors. You know, vanilla, raspberry, orange (or "oranj" if you're Stoli — ooh, such stylish spelling!), etc. I recently sat down with a PR woman for the Van Gogh vodka brand at the South End bar 28 Degrees. She gave me samples of several Van Gogh vodkas, including pineapple, acai-blueberry, chocolate and espresso. She wanted to know what I thought of them. I told her that the flavors were authentic enough — the pineapple tasted like pineapple, the espresso tasted like espresso — but that they were not at all interesting for someone like me, who actually enjoys the taste of spirits and seeks out drinks whose ingredients form an actual Cocktail, as opposed to something that merely mimics another food or beverage.
On occasion, people say to me something like, "So I have a pomegranate vodka martini and I enjoy it. So what? No one gets hurt."
Right, no one gets hurt. Except for the people who are desperately seeking a drink that tastes like a drink and not like a dessert or a cup of coffee or a glass of fruit juice. And with a lot of vodka mixology, you're lucky if you get even that. The one cocktail that I sampled at 28 Degrees, the Prosciutto and Melon, was not even as mildly pleasant as I thought it would be. I was imagining a drink that tasted like spiked fresh cantaloupe. Instead, the drink tasted strangely metallic. And the kicker was the garnish. The strip of prosciutto that was wrapped around the ball of melon left little beads of animal fat floating atop the puréed cantaloupe-melon vodka mixture. Ick. Is this really the sort of drink people want to pay $12 for?
Permalink | Filed under Boston bars, Cocktails, Vodka |