June 1st, 2008
OK, assuming you've read parts 1 and 2 of this series, you've gathered that I drank San Francisco. But I haven't even told you about all the bars yet! I just want to show you a few more pics and say this: San Francisco's a great drinking town not only because it is the West Coast nexus of the craft of the cocktail but also because it has so many great, old watering holes. These are places that, for some miraculous reason, no one has seen fit to transform into tourist attractions or quasi-sports bars. Here are just the few that I managed to squeeze into my visit.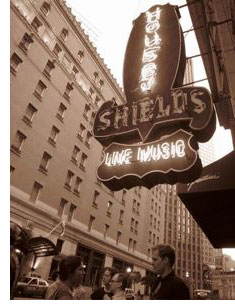 House of Shields: Reportedly, there's a tunnel that runs from the basement of this bar (est. 1908) to the plush Palace Hotel across the street. It is rumored that when President Warren Harding died in 1923, he did not do so in his suite at the Palace Hotel as was officially announced, but in the House of Shields. Given that this was during Prohibition, goes the rumor, Harding was secretly transported underground to the hotel in order to avoid scandal. It's a fine, old bar that Progress has simply left alone. Over an afternoon beer there, I admired the straight-backed, dark wood booths, the decades worth of dust on the sculptural bronze light fixtures, and a photo — probably circa 1940s — of trench-coated, hat-wearing men drinking at the bar.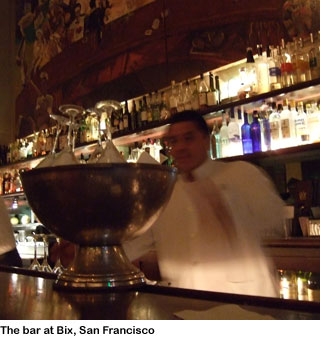 Bix: I heard that this bar has roots in the Gold Rush, when men would exchange pouches of gold dust for drinks. Well, it is on Gold Street, a narrow alley on the edge of Chinatown. Bix is a time capsule to a 1930s supper club. A spacious, lively room with a balcony for extra dinner seating; large, colorful murals decorating the walls; bartenders in short-waisted white jackets; a silver punch bowl filled with martini glasses chilling over crushed ice … I took it all in over a Negroni and a bowl of bar snacks.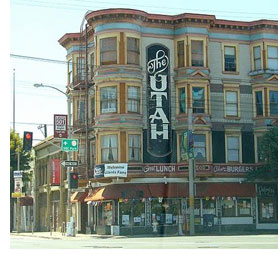 The Hotel Utah Saloon: Another bar established in 1908 (two years after the legendary '06 quake), it's got "saloon" right in the name. There's an elk's head mounted on the wall, and the staircase to the "upper deck" is flanked by a replica of a ship's stern. Online reviews mention the Utah's "friendly bartenders," and this was certainly the case — although I found most SF bartenders to be friendly.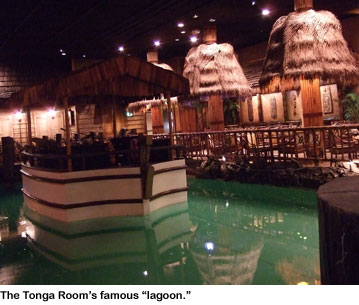 Tonga Room: The ritzy Fairmont Hotel opened this tiki palace in 1947, and, even as tiki went from cutting-edge to kitsch, lovingly kept the place going. We arrived at 5:00 p.m., as soon as happy hour began. Ordered Mai Tais — notable here not so much for their quality as for their strength — and feasted on wantons, fried rice, etc. from the exotically lit buffet. Enjoyed a tropical storm of fake thunder and lightning, with rain falling into the lagoon that is the Tonga Room's centerpiece. Alas, at that early hour no musicians were playing on the small ship that floats in the middle of the lagoon.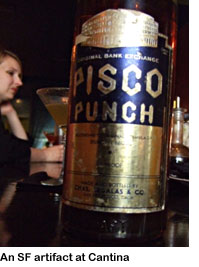 Cantina: OK, this is not an old bar. In fact, it's only about a year old. But as you see from the accompanying photo, it's a place that appreciates San Francisco history. A much talked-about addition to the city's craft cocktail scene, Cantina specializes in Latin America-inspired drinks, both classic and new. Co-owner and bartender Duggan McDonnell's drink list and bartending skills earned him two nominations for this year's Tales of the Cocktail Spirit Awards. He has an amazing selection of cachacas, rums, piscos and tequilas. But even more amazing to me was an antique bottle of Pisco Punch displayed on an upper shelf. You may recall my writing recently about the origins of Pisco Punch, which was served at drinkboston's World Cocktail Day party. Well, here was a real-life bottle of the stuff, its seal still intact, with "According to original formula of Duncan Nicol" right on the label. This one's for you, John Gertsen.
Tags: historic bars, Pisco, tiki
Posted in San Francisco | 7 Comments »