May 16th, 2008
Thanks for a ripping bash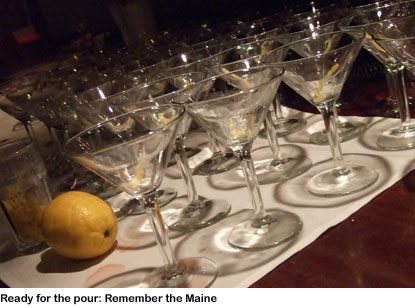 If you couldn't get into the sold-out World Cocktail Day party at Green Street on Tuesday, I'm sorry to tell you that it was a ton o' fun. In fact, it was an evening I was downright thankful for. It marked the end of World Cocktail Week, whose frivolity contrasted unavoidably with a coinciding spate of tragedies: the cyclone in Myanmar, the earthquake in China, tornadoes in the U.S. (not to mention the continuing grimness in Iraq, Afghanistan, etc, etc, etc). I'm not trying to bring anyone down here. I'm just saying there were times during the evening when I paused, soaked up the good vibe among the crowd and thanked my lucky stars.
Our guest bartenders, four knowledgable and talented New England gentlemen, each mixed a vintage cocktail of their choice, then went from table to table recounting that libation's origins and moment in history. They time-traveled from 1870s San Francisco to an 1880s bartender's manual to the Spanish-American War (1898) to an early 20th-century obsession with songs about maidens. The cocktails (below) were accompanied by flatbread pizza, beef tongue tacos and other tasty treats from the Green Street kitchen. We started with an innocent-seeming Maiden's Prayer and ended with a brassy Remember the Maine, at which point the joke was whether anyone would remember the Maine.
Maiden's Prayer
by Tom Schlesinger-Guidelli of Eastern Standard
3/4 oz Plymouth Gin
3/4 oz white rum
3/4 oz lemon juice
1/2 oz Cointreau
1 dash orange bitters
Shake well over ice, strain into a cocktail glass, and garnish with a flower. Based on a variation (circa 1930) of the original (circa 1907), which may have been inspired by a hit piano tune of the late 1800s.
Nicol's Secret Pisco Punch (without cocaine)
by John Gertsen of No. 9 Park
6 parts BarSol pisco
3 parts lemon juice
2 parts pineapple syrup
1 part water
Shake, strain into a cocktail glass, and garnish with pineapple. The recipe originated with Duncan Nicol, the proprietor of San Francisco's Bank Exchange saloon from the late 1870s until Prohibition. The secret's out: a wee bit of gum arabic (which comes in a white powder — get it?) makes this a silky sweet punch.
Bijou
by Brother Cleve, cocktail historian and mixologist
1/3 Plymouth Gin
1/3 sweet vermouth
1/3 green Chartreuse
1 dash orange bitters
Stir well over ice and strain into a chilled cocktail glass. Garnish with a cherry or a lemon twist. A Golden Age cocktail dating back to Harry Johnson's Bartender's Manual in 1882.
Remember the Maine
by John Myers, Portland, Maine-based bartender and cocktail historian
1 1/2 oz good rye whiskey or bourbon (i.e. Maker's Mark)
3/4 oz sweet vermouth
1-2 tsp of cherry brandy
1/2 tsp absinthe or Pernod veritas
Stir well over ice and strain into a chilled cocktail glass with a lemon twist. Named for the rallying cry of the Spanish-American war, the cocktail is described in Charles H. Baker Jr.'s The Gentleman's Companion (1939). Myers' note: "Any absinthe substitute will work, but the 'cherry brandy' is up for some interpretation. Different drinks occur — but still work, so little is deployed — if Cherry Heering or maraschino are used."
World Cocktail Day at Green Street benefited the Museum of the American Cocktail, which launched World Cocktail Week. Plymouth Gin, Maker's Mark bourbon and BarSol Pisco were the evening's sponsors. Many thanks to Green Street bar manager Misty Kalkofen, owner Dylan Black and everyone else in the kitchen, behind the bar and out on the floor for totally kicking ass.
Permalink | Filed under Cocktails, Events, Gin, Pisco, Whiskey |