May 28th, 2008
Live from San Francisco II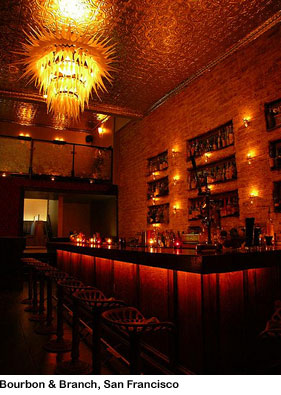 The last two days have been a carnival ride of great bars and cocktails, the highlights being Bourbon & Branch and Savoy night at the Alembic. What fun.
Bourbon & Branch sits in an actual Prohibition-era speakeasy marked only by a lighted sign that says "Anti-Saloon League, San Francisco Branch Est. 1920." It's a sort of West Coast counterpart to Milk & Honey in Manhattan. To sit at the main bar, you have to make a reservation and utter a password when you arrive. For the bar in the "library," reservations aren't required, but a password is.
In the words of an industry person familiar with the San Francisco cocktail bar scene, Bourbon & Branch is "one of the most polarizing places." I get it. Any bar that cultivates exclusivity and establishes a very high standard of mixology and service is setting itself up for a backlash: accusations of snobbery and preciousness, gripes over the inevitable instances when standards fall even slightly. All I can say is that, as a visitor from out of town oblivious to any of this context, I had a fabulous time there.
This was partly because Jamie Boudreau, who made a name for himself at Vessel in Seattle and on his Cocktails and Spirits blog, was a guest bartender during my visits. (Jamie has left Vessel and is planning his next venture.) Bourbon & Branch's menu offers any drinker a comprehensive and sophisticated selection of vintage and vintage-inspired cocktails, but Jamie upped the ante by having a whole 'nother menu of esoteric mixtures right in his head. Drinking there was an embarrassment of riches about which I can only offer an impressionistic snapshot — I was enjoying myself too much to be a nerdy notetaker that night. Rye whiskey, canteloupe-infused gin, cherry and lemon bitters, thyme essence, flamed citrus peel… Barstools made from tractor seats… Red velvet wallpaper… Happy, quirky people stepping out for a smoke… Sigh. We could use a bar like this in Boston.
Speaking of embarrassments of riches, I headed back to the Alembic Bar last night for Savoy night. On the last Tuesday of every month, the bar staff accomplishes the astounding feat of procuring or making all the ingredients required to mix any of the roughly 1,400 cocktail recipes found in the 1930 Savoy Cocktail book. Fifteen or so copies of the book circulate around the bar as patrons — drunk on possibilities as much as alcohol — pore through the tome in search of their next time-capsule-in-a-glass.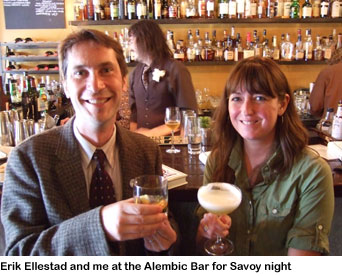 Sitting nearby me was Erik Ellestad, a San Francisco blogger who is drinking his way through the entire Savoy book and writing about it on the Underhill Lounge. He's somewhere in the H cocktails — the guide is organized alphabetically and by type of drink — and he served as our unofficial guide. "What do you think, Erik, should I get an Artist's Special Cocktail?" "Here, taste my St. Germain Cocktail." "Ewww, I can't believe you tried the Earthquake Cocktail." Also with us was Camper English, a freelance drinks writer and publisher of Alcademics. He was sampling cocktails containing sherry as research for an upcoming trip to Jerez, Spain.
If you have a copy of the book, play along — here's what I tried: Tantalus, Cafe Kirsch, Resolute, Peach Blow Fizz, St. Germain Cocktail, Whiskey Smash, Artist's Special Cocktail, Twelve Miles Out, Chicago and Cinzano Sparkling Cocktail. What a trip.
Permalink | Filed under San Francisco |