March 27th, 2009
Mmm, medicine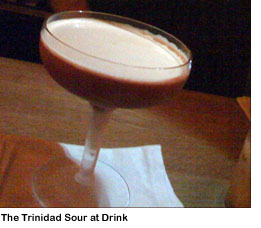 I am a big fan of drinks that taste a bit like medicine. Pour some bitters, be they Angostura, orange, Campari, Aperol, Fernet, etc., into a glass of whiskey, gin or brandy, and chances are I'll slurp it up. Bitter cocktails are, like blue cheese or anchovies, something we start out thinking is disgusting but that, as we get older and wiser, we grow to savor.
Ben Sandrof at Drink has made me many a medicinal cocktail, so he knew he had a good guinea pig for a new drink that takes the idea of a bitter cocktail all the way to Crazy Town: the Trinidad Sour. Created by a bartender [Giuseppe Gonzalez] at Clover Club in Brooklyn, it uses Angostura bitters (which are made in Trinidad) as a base. Here's what I mean:
Trinidad Sour
1 oz Angostura bitters
1 oz orgeat
3/4 oz lemon juice
1/2 oz Rittenhouse rye
Shake hard and double-strain into a chilled cocktail glass.
A full ounce of Angostura modified with a bit of whiskey? That's, like, 50 times the amount of these "non-potable" bitters that are usually measured by the dash. Nonetheless, I poted them. And surprisingly, the drink was potable. With the sweetness of the orgeat (almond syrup) and the sourness of the lemon juice, the deep-red potion tasted kind of like a really strong, and medicinal, Sweet Tart. The weirdest part of it was the white head that just sat atop the liquid in the glass until the drink was drained, like the head on a Guinness. Ben was fascinated and mystified by it. I could only guess that all the plant matter that goes into a bottle of Angostura creates some really fine particles that somehow bind to the other ingredients and froth when shaken. I may be way off but, hey, it sounds good.
Another bitter cocktail I tried recently and have to mention, because it's every bit as bold in its own way as the Trinidad Sour, is the No. 47 at Hungry Mother (the cocktails here have numbers instead of names). The cocktails during my first two visits to this instantly acclaimed, year-old Cambridge restaurant were underwhelming. But this time around they were perfect. The ingredients in the No. 47 are Laird's Applejack, Aperol and Buffalo Trace Bourbon — in what proportions I don't know exactly, but none seemed overshadowed by another, and together they created a mixture that transcended the individual spirits. The drink was served "down" in a heavy rocks glass with a large sphere of ice, which made all the difference. The drink started out strong but stayed cold and balanced as the ice slowly melted. I thank bartenders Ned Greene and Duane Gorey, plus co-owner Alon Munzer, for creating Hungry Mother's short but sweet cocktail menu and for adding some more delicious medicine to my first-aid kit.