June 9th, 2010
Boston does the Can-Can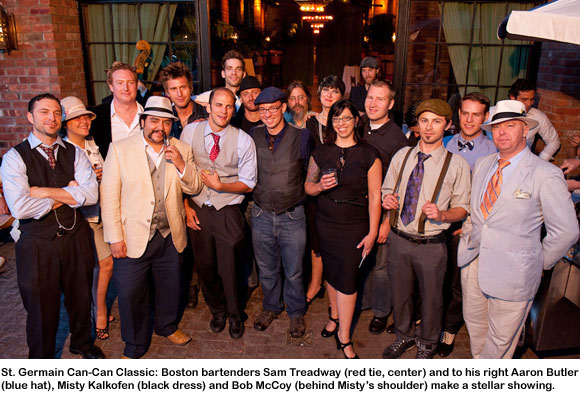 Four Boston bartenders competed in yesterday's third annual St. Germain Can-Can Classic at the Bowery Hotel in New York City, and two of them took home the top two prizes. Congrats to Bob McCoy of Eastern Standard for his 1st place, $5K win and to Misty Kalkofen of Drink for her 2nd place, $2K win.
Three cheers as well to competitors Aaron Butler of Russell House Tavern and Sam Treadway of Drink for rounding out Boston's prowess in this mixology event. Each of the four bartenders became eligible to compete in the Can-Can by winning St. Germain's monthly cocktail contests.
McCoy, who also employed the elderflower liqueur to great effect at drinkboston's Bartenders on the Rise event, impressed this year's Can-Can judges with the mixture below. More recipes and tidbits to come as I get them.
Elixir Alpestre
By Bob McCoy
2 oz Bols Genever
3/4 oz St. Germain
1/4 oz Becherovka
1 dash Angostura Orange Bitters
6 drops Pernod Absinthe
Combine all ingredients in a mixing glass, add ice and stir. Strain into a coupe glass and garnish with a lemon twist.
Permalink | Filed under Bartenders, Cocktails, Liqueur | Tags: Aaron Butler, Bob McCoy, cocktail competition, Misty Kalkofen, Sam Treadway, St. Germain