February 22nd, 2008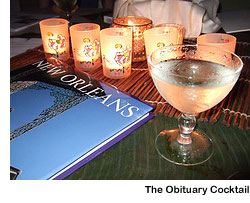 I've been drafted to represent Tales of the Cocktail 2008 at the Boston Globe Travel Show this Friday and Saturday (February 22-23). TOTC Founder Ann Tuennerman is busy promoting her event elsewhere around the country, so I, along with Misty Kalkofen of Green Street, signed on for the job. Since Misty and I (and several of our fellow Boston cocktailians) are attending TOTC again this year, you'll be hearing more about this be-there-or-be-square cocktail party as its time (July 16-20) nears. And, of course, there'll be posts about the event during and after the fact, just like last year.
Misty's and my presentation will involve a few cocktail demos, of course. Two of the featured drinks celebrate New Orleans and its cocktail history; the third gives Travel Show attendees a taste of what's happening in today's Boston scene. Try them out yourself while you plan your trip to New Orleans this summer. FYI, we used Hendrick's gin (a TOTC sponsor) in the recipes below.
Obituary Cocktail
2 oz gin
1/4 oz dry vermouth
1/4 oz absinthe (or Herbsaint)
Stir all ingredients well over ice and strain into a cocktail glass. This cocktail was created at Jean Lafitte's Blacksmith Shop on Bourbon St., one of New Orleans' oldest saloons.
French 75
1 1/2 oz gin
3/4 oz fresh lemon juice
1/2 oz simple syrup
Champagne
Shake gin, lemon juice and simple syrup over ice. Pour into champagne flute or saucer and top with Champagne. The bar at the famous New Orleans restaurant, Arnaud's, is named for this drink. The drink is, as you know, named for the rapid-firing cannon the French used in World War I.
Flapper Jane
1 3/4 oz gin
1/2 oz fresh lemon juice
3/4 oz Wu Wei tea-infused simple syrup*
dash of Peychaud's bitters
Shake all ingredients over ice and strain into a cocktail glass. The Flapper Jane was created for the LUPEC Boston Tea Party.
*Wu Wei tea-infused simple syrup: heat 1 cup sugar, 1 cup water and 1 Tbsp Wu Wei tea in a saucepan until all the sugar dissolves. Pour into a container and let cool. Store in fridge.
Tags: Gin, New Orleans, Tales of the Cocktail
Posted in Cocktails, Events, Gin, New Orleans | 6 Comments »