October 10th, 2007
Tea hangover?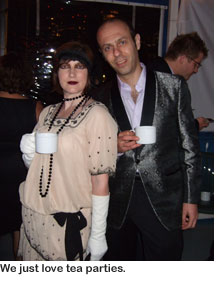 The LUPEC Boston Tea Party, which took place on Sunday night, was such a blast that I'm guessing attendees are still cursing the Boston chapter of the Ladies United for the Preservation of Endangered Cocktails. Well, I can only say to them: thanks for helping us preserve those endangered cocktails — and supporting Jane Doe Inc. in the process. Don't worry, your liver will bounce back in time for our next event. Promise.
Prohibition-era and other vintage cocktails included the Scoff Law, the Mother-in-Law and the Bronx. The ladies also created a new cocktail just for the party called the Flapper Jane (recipe below). They circulated through the crowd with silver pourers, topping up people's teacups (you know, so the fuzz didn't know we were drinking hooch). Miss Tess had the boat swinging with her modern-vintage singing, guitar playing and trombone blowing, accompanied by a standup bass.
Yes, I said "boat." The shindig took place on the Merrimac Queen, a permanently docked riverboat in the North End's Lewis Wharf. The Boston Sailing Center graciously lent it to us for the cause. In fact, many people in the spirits and food biz, plus several local businesses and friends, donated the goods and labor that made the whole thing possible. Read about them on the LUPEC Boston blog.
The Flapper Jane
1.75 oz Plymouth Gin
.5 oz fresh lemon juice
.75 oz Wu Wei tea-infused simple syrup
dash of Peychaud's Bitters
Shake in a cocktail shaker, strain into a cocktail glass.