May 14th, 2009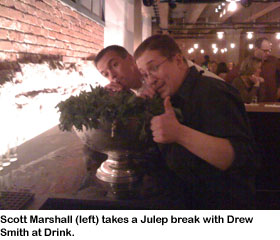 This installment of Nips is all about congratulations. First, congrats to bartender Scott Marshall of Drink, who earned the highest score on last week's BarSmarts Advanced exam in Boston.
BarSmarts Advanced is a new spirits and mixology training and certification program run by Beverage Alcohol Resource (BAR) and Pernod Ricard. You may recall that two other Drink bartenders, Misty Kalkofen and Josey Packard, have passed the rigorous BAR 5-Day Program in New York City. Roughly speaking, BarSmarts Advanced is to BAR 5-Day as the SATs are to college. And, just as some students get scholarships for acing the SATs, Marshall's high score earned him a $3,500 scholarship to attend BAR 5-Day this fall. About 100 bartenders and related industry folk from around New England participated in the BarSmarts Advanced course, which is being offered in cities throughout the U.S. One of those related industry folk was yours truly. And yes, I passed. More about BarSmarts in another post.
Speaking of Josey Packard, congrats to her for making the Improper Bostonian's annual Beloved Bartenders issue. Don't worry, Josey, we still respect you.
Congrats to Fred Yarm of cocktail virgin slut for being named a finalist in the TRU Organic Spirits Barmade Bitters Challenge. In July, Yarm will present his celery bitters to a panel of judges at Tales of the Cocktail in New Orleans in hopes of becoming one of three winning mixologists to see their recipes commercialized. Go, Fred!
Finally, congrats to Boston food/drink critic and drinkboston contributor MC Slim JB for recently launching a kick-ass blog. You know his stellar prose from the Phoenix, stuff@night, Boston Magazine, etc., and now you can enjoy the type of commentary that doesn't adhere to the polite, hook-driven strictures of our mainstream press.
Tags: BAR, BarSmarts Advanced, Beverage Alcohol Resource, Fred Yarm, josey packard, MC Slim JB
Posted in Bitters, Books & resources, Nips | 7 Comments »