May 20th, 2009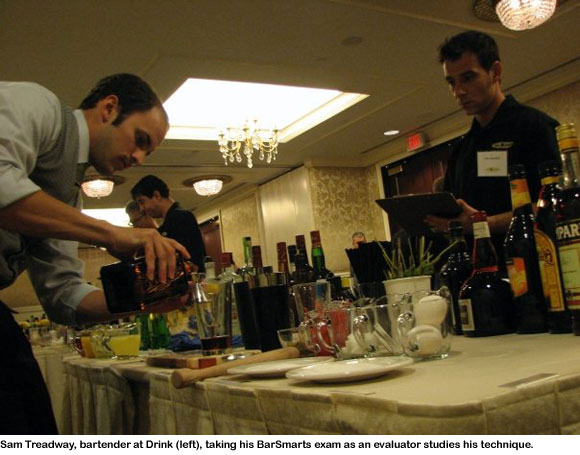 When was the Rob Roy invented? Which region of Armagnac is considered to produce the finest brandy? At what point in history did people begin distilling beer and wine to produce spirits? What volume of liquid does a standard barspoon hold?*
These are the kinds of things I had to know in order to pass BarSmarts Advanced, a spirits and mixology class conceived by BAR (Beverage Alcohol Resource) LLC and sponsored by the U.S. unit of Pernod-Ricard SA (whose many brands include Absolut, Wild Turkey, Beefeater, Plymouth, Martell and Chivas Regal). It's a four-week course with four online quizzes that test you on material from a 68-page workbook full of info on the nature and history of spirits and cocktails, plus bartending tools and technique. Passing the four quizzes earns you a spot at BarSmarts Live, a.k.a. the final exam, which involves a 100-question written test (complete with blind evaluation of spirits) and a practical section where you are asked to mix three cocktails out of a possible 25 in 10 minutes.
Whew.
May 6 was the day of reckoning here in Boston. About 100 bartenders and liquor-industry folk from all over New England, with a sprinkling of writer types like me, gathered in the Colonnade Hotel for the exam, which was preceded by a morning of seminars supplementing the stuff we learned over the past month. The $65 fee for the course suddenly seemed amazingly cheap when I learned that all of BAR's primary instructors had traveled up from New York to administer this thing: Dale DeGroff, Doug Frost, Steve Olsen, F. Paul Pacult, Andy Seymour and David Wondrich. Not only are these guys impressive (check out their bios on the BAR website), they're a good time. I mean, you've got problems if you're teaching spirits and mixology for a living and aren't having fun, but this group is notable for its combined depth of knowledge and breezy attitude toward the subject at hand. After all, what they're essentially doing is helping everyone have a better time in bars.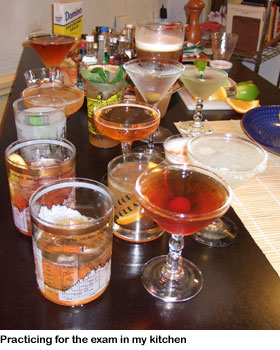 Preparing myself for the practical part of the exam was nerve-wracking, given that the last time I worked in a bar Fuzzy Navels and Slippery Nipples were popular (what a weird era). I actually mixed all of the Classic 25 Drinks Every Bartender Should Know, to the workbook's exact specifications, in my kitchen one night. Bloody Mary and Dry Martini, meet Pisco Sour and Irish Coffee. I am glad I did this. When my evaluator for the practical, Dale DeGroff — who had just won the James Beard award for best wine and spirits professional — ordered a Caipirissima (a Caipirinha with rum instead of Cachaca), a Manhattan and a Margarita on the rocks, I cranked them out pretty smoothly. Thank god I wasn't being judged on flair; nothing like a silent, methodical bartender to get the party going.
There were some glitches over the course of the four weeks, namely with the online quizzes. Compared to other cities that have participated in the program, Boston quickly distinguished itself by the number of complaints lodged about quiz results that were flawed or downright incorrect. Confession: I was one of the nerds who emailed the administrators screen shots of my results as proof. Hey, the upside was that we helped BarSmarts do some crucial website de-bugging!
The funny thing is, I almost turned down the invitation to take the course. A friend who had taken BAR's 5-Day course in New York prodded me to sign up. "Can't do it. Way too busy," I whined. But he wouldn't take no for an answer. At one point, he emailed me:
Remember that part in Oceans 11 where they all go meet at Roman's house & Matt Damon is kind of sitting outside at the pool trying to decide to go inside or not after Clooney tells them all what they're in for? And Roman comes over & talks to him for a minute & then shoves him inside 'cause he really didn't have a choice anyway 'cause it was the right thing to do? You're Matt Damon & I'm Roman. Get in the house.
So I did. And I passed. Of course, I have no plans to work behind a bar again. But at least I'll know what the hell I'm talking about when I scold a bartender for putting ice in my Gin Fizz.
(*BarSmarts answers: 1890-1900. Bas Armagnac. 500-300 B.C. 1/8 oz.)
Tags: BarSmarts Advanced, bartending school, mixology course, training
Posted in Bartenders, Books & resources | 11 Comments »