April 9th, 2010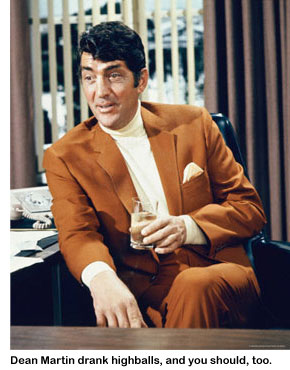 Once upon a time, when adults said, "Let's get together for drinks," they meant highballs. Guests would bring a bottle of their preferred hooch to someone's backyard, and the hosts would provide the tall glasses, ice and mixers — tonic, ginger ale, Squirt. Lots of smoking and guffawing would ensue before everyone drove home tipsy without seat belts.
Contemporary society goes against all that. It not only sensibly condemns the smoking and drunk driving, it sadly also dismisses the most basic form of mixed drink, the highball. We have bazillions of cocktail choices now, and, unlike the highball drinkers of yore, we talk about them endlessly (damn drinks bloggers).
In celebration of World Cocktail Week (May 6-13), let's re-embrace that simple pleasure of the booze universe. Join drinkboston and Trina's Starlite Lounge for Bourbon & Gingers, Presbyterians, Gin & Tonics, Moscow Mules and other members of the highball family — all with quality spirits and featuring house-made mixers — and party like it's 1965. The details:
Highballs! Hosted by drinkboston and Trina's Starlite Lounge (3 Beacon St., Somerville)
Sunday, May 9 (yes, Mother's Day — bring mom!)
7:00 p.m. until last call
$35 in advance, $40 at the door
Highballs include bourbon & housemade gingerale, Presbyterian (rye, housemade gingerale, seltzer), gin & Q Tonic, Moscow Mule (vodka, fresh lime, housemade gingerale), Tom Collins (gin, fresh lemon, simple syrup, seltzer) and Calamansi Collins (the Starlite's own creation with Thai basil-infused gin, calamanzi juice, simple syrup and seltzer).
Tickets include four highballs, such retro delights as pigs in a blanket, and DJ-spun, highball-appropriate tunes.
Call the Starlite at

617-576-0006

to purchase your ticket in advance, as there's a good chance we'll sell out.
Wear whatever you like, but anyone who shows up dressed as stylin' as Dean Martin (or his date) will get extra credit.
Where does the term "highball" come from? Several sources trace it to the Irish expression "ball of malt," which became Americanized in the late 1800s to "ball of whiskey" — both terms meaning a measure of whiskey. If a saloon patron wanted a longer drink with carbonated water, he asked for a "highball." Then there's the "highball" of railroad lingo — a signal, originally a ball hung above the tracks, indicating full speed ahead — that provides a fun double meaning.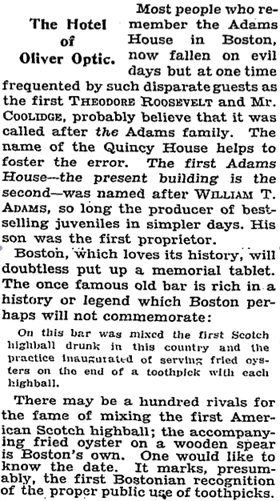 Did the scotch highball originate in Boston? This amazing article from the October 22, 1927 edition of the New York Times indicates as much. (Note the characteristic snark toward Boston.) Here's some intel on William T. Adams, who wrote books for boys under the pen name Oliver Optic, and the Adams House hotel. It seems the NYT was lax in its fact-checking here — the Adams House was established by William T.'s father, not his son.
But wait, this DrinkBoy forum thread appears to contain a quote from a letter to the editor in the October 27, 1927 NYT by famed bartender Patrick Gavin Duffy, who makes a case for having first introduced the scotch highball in New York.
Whatever. All I know is that I'm craving a scotch and soda with a fried oyster on a toothpick. See you on May 9!
Tags: Adams House, Boston history, cocktail history, highballs, Trina's Starlite Lounge
Posted in Events, Whiskey | 7 Comments »