October 27th, 2009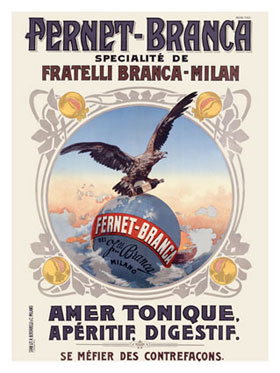 The eagle has landed. Boston imbibers, you're invited to a joint drinkboston – Franklin Southie production: Fernet Branca Industry Night.
What: A festive gathering for industry and non-industry folk alike who are curious or passionate about the pungent, dark and mysterious digestif Fernet Branca. A special drink menu will feature Fernet cocktails by bartenders around Boston.
When: Thursday, November 5, 8:00 p.m. – last call.
Where: The Franklin Southie, 152 Dorchester Ave., South Boston.
Who: On the stick — Joy Richard, bar manager and head mixologist for the Franklin Southie and the Franklin Café, and founding member of LUPEC Boston; and Peter Cipriani, longtime bartender on the Boston scene (you may also know him from Silvertone and Stella). Joy's original Fernet cocktail recipe will be joined by recipes from:
Tom Schlesinger-Guidelli – Craigie on Main
Misty Kalkofen – Drink
Josey Packard – Drink
Jackson Cannon – Eastern Standard
Emma Hollander – Trina's Starlite Lounge
What else: Fernet cocktails $7. Fernet in ice shot glasses: $5. Fernet swag (get it while you can). No tickets or reservations required. Fernet, plus appetizer specials and the company of fellow Fernet fiends and curious cocktailians, are what it's all about.
Remember to sign up for the drinkboston email list at drinkboston (at) comcast (dot) net to get announcements about upcoming events.
Tags: Fernet Branca, Franklin Southie, South Boston
Posted in Bitters, Events | 9 Comments »