October 21st, 2009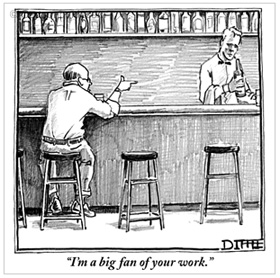 Shoot, y'all. Some mighty fancy folk are making their way to ol' Beantown to open up swanky bars in a pair of purty new hotels.
First, the W Boston in the theater district. Come October 29, its "decadent indulgences await your exploration, immersion, savoring, lingering, mingling, socializing, canoodling and celebrating." Lingering? Mingling? OK. But canoodling? We don't do that in Boston! Irregardless, Sasha Petraske, well known in cocktaildom for opening Milk & Honey (the bar that launched 1,000 speakeasies), Little Branch and Dutch Kills in New York and the Varnish in L.A., is reportedly in charge of the cocktail menu at the W Boston's "destination bar." (Update: that bar, called Descent, will not open until early 2010.)
Meanwhile, John Lermayer, who leapt from head bartender at the Florida Room in Miami's Delano Hotel to internationally acclaimed mixologist, is helming the booze program at Woodward, a "modern day tavern" in the Ames Hotel, which opens in the financial district November 19. Woodward's PR says that Lermayer and William "English Bill" Codman (a longtime Boston bartender) are developing a "distinctive drinks menu featuring modern touches on beloved classics such as a Margarita infused with chamomile agave nectar and a Caipirinha with local apple cider and fresh rosemary."
Neat.
OK, these are talented guys who no doubt can write an impressive cocktail menu. But, once they leave town, who (besides Codman at Woodward) will turn their recipes into drinkable drinks? That's the million-dollar question (no exaggeration). We all know that a bad performance can turn Shakespeare into crap. Cocktail lists in certain places around town look good until you actually order from them. Take the Back Bay's new Post 390. They serve Sazeracs! … in snifters … without a discernable trace of Peychaud's bitters. Sigh.
But rather than be cynical, I'm going to view this as a potential bonanza for Boston bartending. So many openings for skilled practitioners all of a sudden — where will they come from? Will they be pilfered from other high-end bars like Drink, Eastern Standard, No. 9 Park and Craigie on Main? Or will 'tenders who already man the planks at Boston's finest hotels and steak houses gravitate to the Ames and the W to learn top-notch mixology? Should be interesting.
And think about it, aspiring bartenders: we're still in the midst of the Great Recession, yet quality bars in Boston aren't just booming, they're proliferating. I mean, Legal Sea Foods is getting in on the game, for chrissake. Get yourself started as a bar back and look toward a rosy future — Boston imbibers need you!
Tags: Ames, hotel bars, John Lermayer, Sasha Petraske, W, Woodward
Posted in Bartenders, Boston bars, Cocktails | 12 Comments »